Horse Listening: Beautifully Connected (with 36 months access)
Give your horse the gift of trust & connection with these 9 inspiring groundwork & riding lessons
What if there was a simple way to create a beautiful connection with your horse - on the ground & in the saddle?
A way to help your horse to focus & relax when you are working together.
With unique groundwork & riding exercises to keep things interesting & build connection.
Including fun 5 & 10 minute lessons for bad weather or when you're short on time.
A method to build connection and trust on the ground - before you ride.
Develop your relationship and understanding of your horse's character
Ready to create an inspiring connection with your horse?
Give your horse the gift of trust & connection with Beautifully Connected.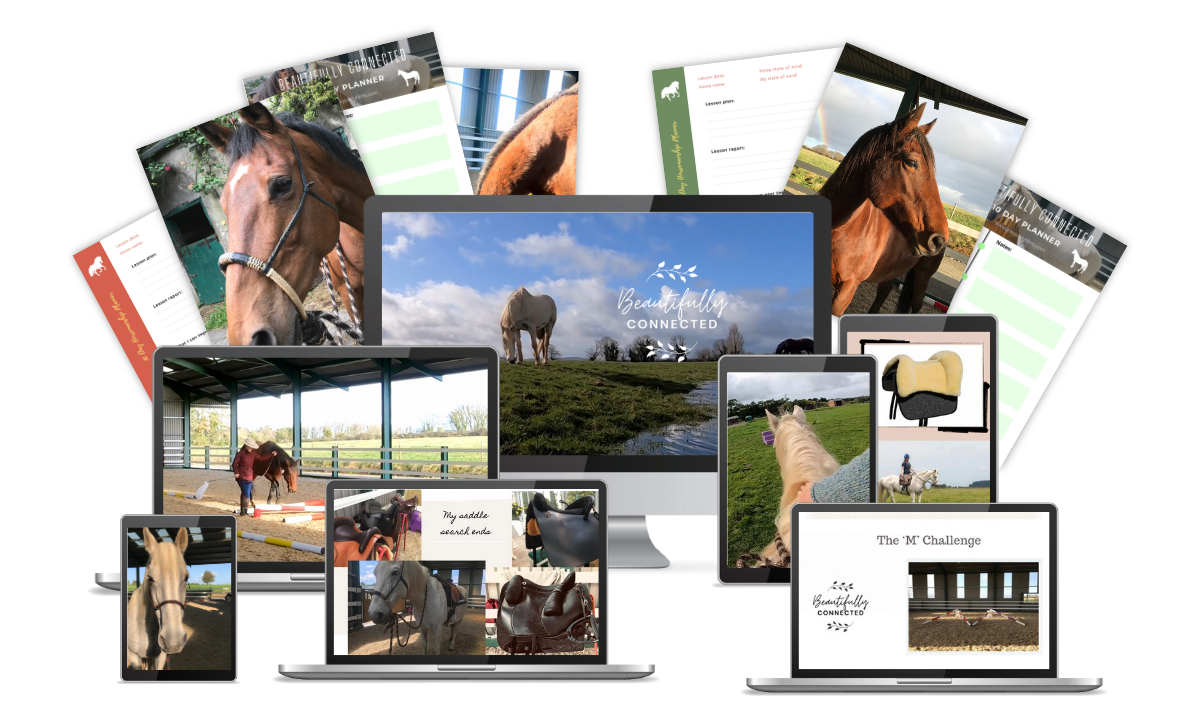 Enjoy 9 Unique Groundwork & Riding Exercises To Improve Your Trust & Connection - While Having Fun With Your Horse!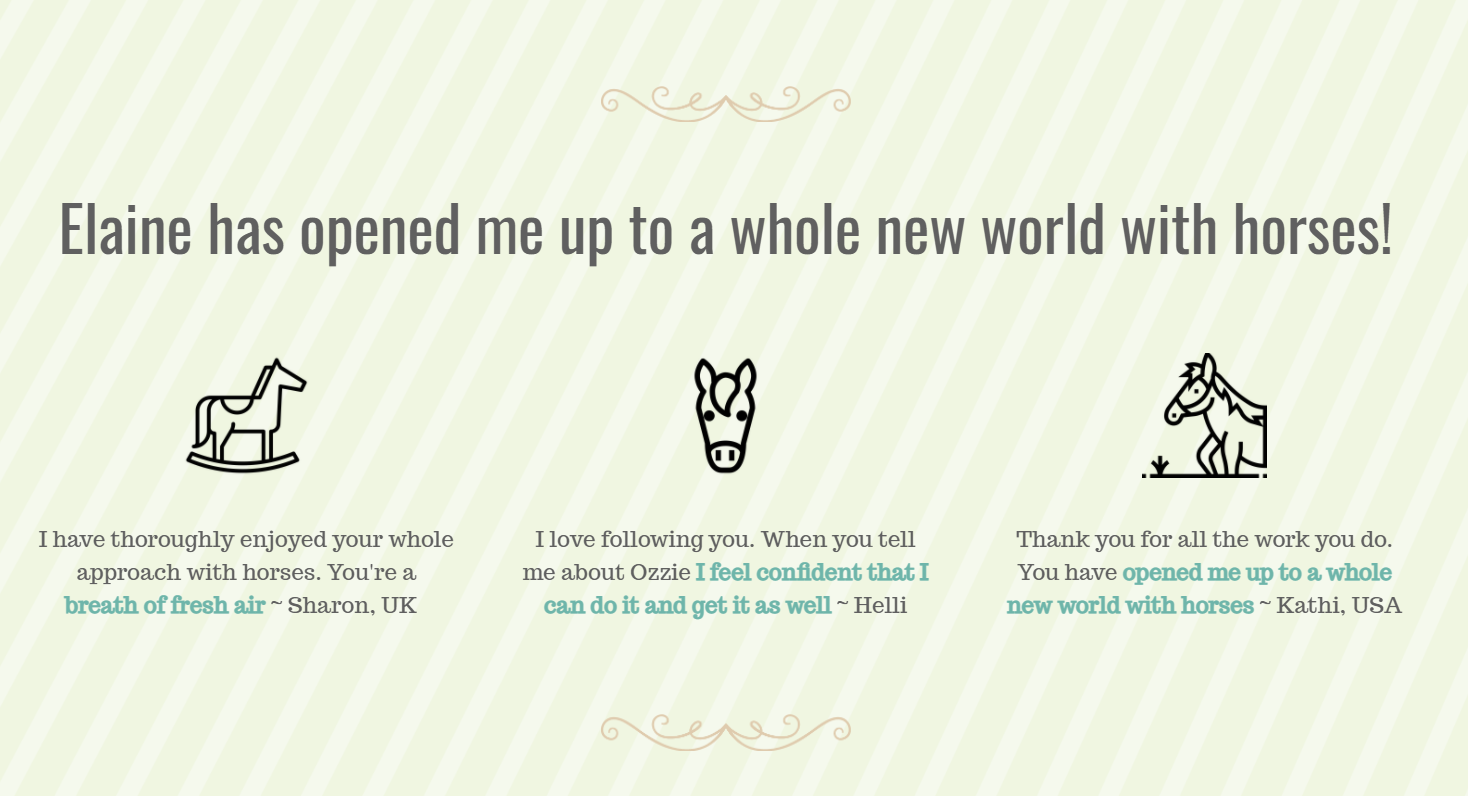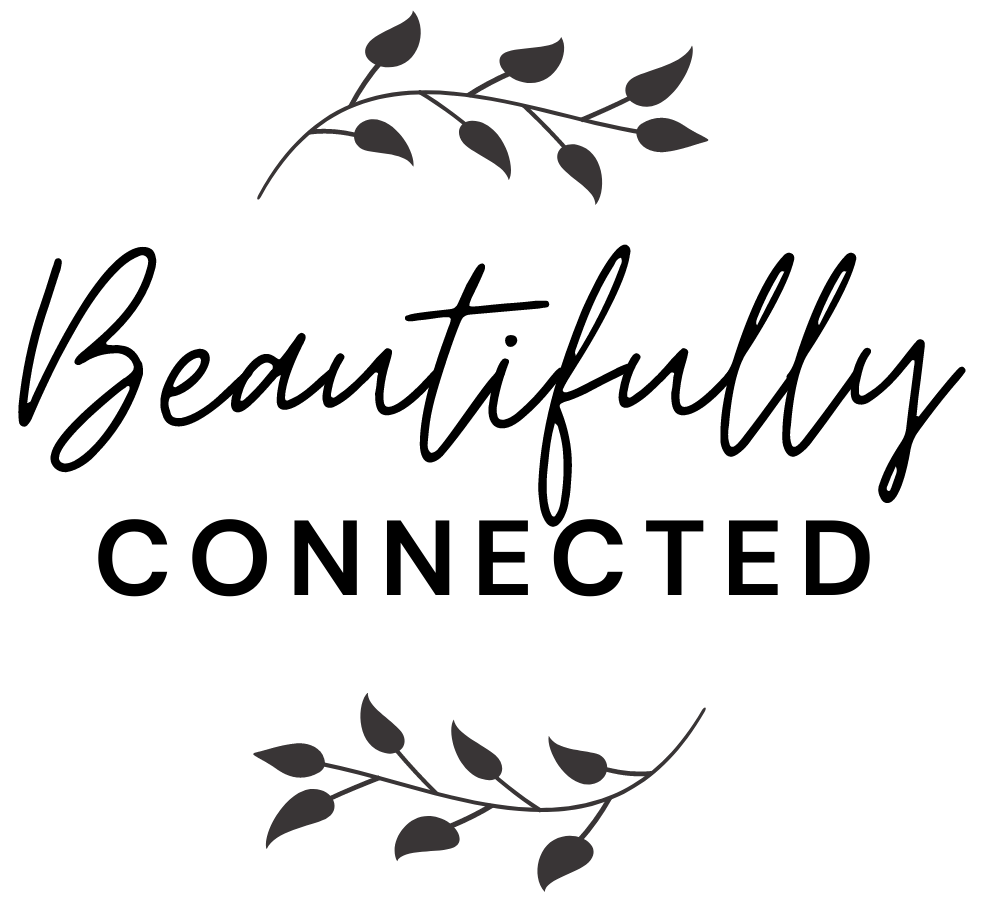 Create an inspiring connection with your horse with these 9 step by step connection lessons...

The 'M' Challenge - Great for Trail Riding preparation!
The Inside Outside Exercise - Connecting through movement
The Semi-Circle Solution - Build connection when your horse walks too fast
The Saddle Situation - Improved saddle fit for connection
Bad Weather Boost - Exercises for bad weather or when you're short on time
The Softness & Bend Creator - Say goodbye to motorbike style corners!
The Perfect Direction Promise - No more drifting out of circles!
The Fast Horse Fix - The Story of an Energetic Horse with Ozzie the Connemara
The Scary Solution - How to deal with a scary objects when you are riding your horse
BONUS #1: The 1 Pole Challenge - Build focus & connection together
BONUS #2: 10 Day Beautifully Connected Downloadable Planner

Here is everything you get:
9 Beautifully Connected video lessons with Elaine, Ozzie & Matilda . . . . . . .(Value $397)

(see the full lesson list above!)

BONUS #1: The 1 Pole Challenge - Build Focus & Connection Together . . . (Value $37)
BONUS #2: 10 Day Beautifully Connected Downloadable Planner . . . . . . . . . . (Value $27)
Regular price = $247
Today's Price = $99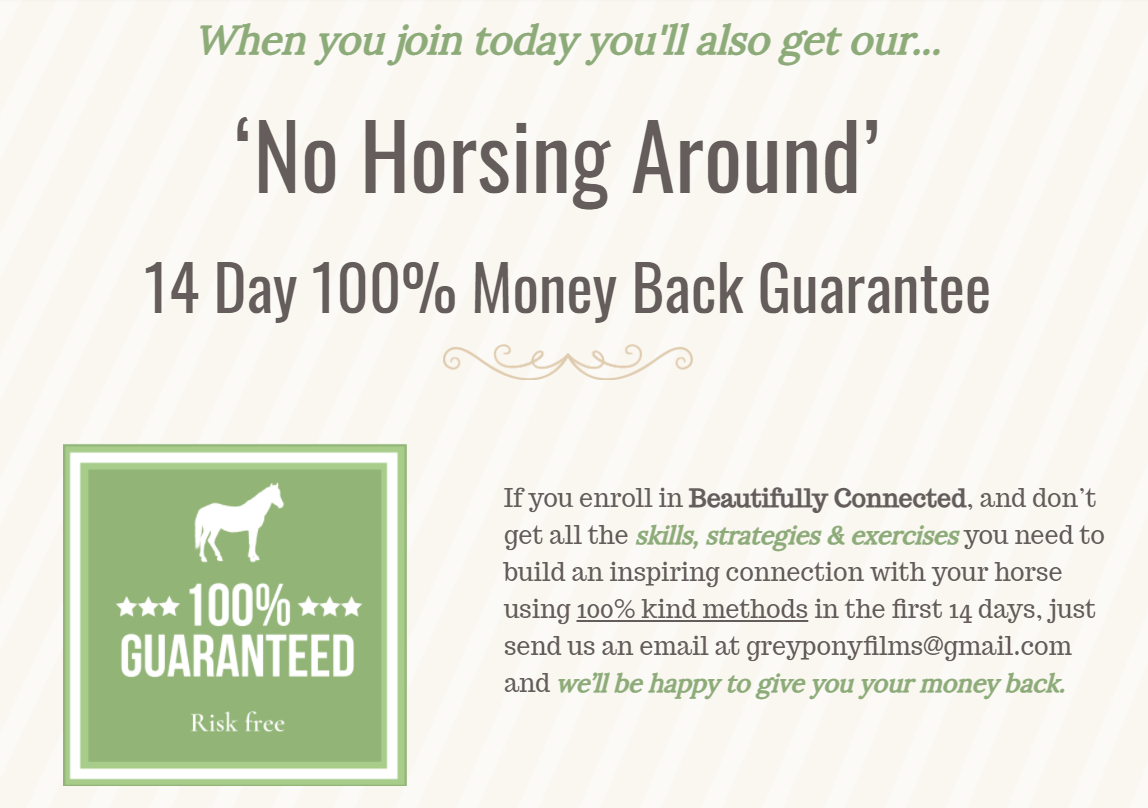 FAQs
What's the format of the program? When you join, you will get a grateful kiss from your horse (who doesn't love a horse smooch?!) plus instant access to all the modules & bonuses in Beautifully Connected for 3 years from the date of purchase.
Is Beautifully Connected suitable for new horses or first time horse owners? 110% yes! The first step for any horse-human partnership, is to work together and build a bond, starting with communication & connection. It is magical to see how much trust & connection can develop and how you can build an awe-inspiring partnership with your horse! So it's perfect if you are the proud owner of a new horse, or if your horse is the proud owner of a first time human!
Do I need an arena? No you 100% don't :) All you need is somewhere to do some groundwork & riding.
How long does each session with my horse need to be? We believe in quality, not quantity. And luckily, so do our horses! So if you can spend 1 or 2 fifteen minute sessions with your horse each week - that sounds perfect. Plus with our thoughtfully designed 'small chunk' lessons, you'll always be able to have fun with your horse!
I bought these exercises, how do I log in & watch them? When you purchase you will get an email with all your login details. If it hasn't arrived please check your spam & promotions folder as sometimes your email gets hidden in there (ugh, technology I know!). If it's not there, please email our team and we'll be happy to get you all set up :) Email us: [email protected]
Is this course suitable if I only do groundwork with my horse? This course has a mixture of both groundwork & riding. But you can do 7 of these 9 lessons on the ground!
Is this for English or Western riders? These exercises are for both English & Western riders. It doesn't matter the style of your saddle or what type hat you wear. All that matters is that you love spending time with your horse & want to create an inspiring partnership together.
Do I need any special type of equipment? A rope & halter for groundwork, and whatever you usually use to ride with is perfect.
If I purchase now, can I watch the exercises later when I have more time? Absolutely! I know it's a crazy time in the world right now, so that's why you get unlimited 24/7 access to all the course modules and bonuses, on all your smartphones, laptops & ipads, for 4 years from the date of purchase or the life-time of this course, whichever is greater.
Hey Elaine, is this a one time charge? Yes! This is a one-time payment only. There is no ongoing subscription. So you don't need to worry. All you need to do is share the great news with your horse & look forward to having lots of fun together :)
What technology do you need? This program is 100% online! You will need a computer or smartphone/tablet connected to the internet.
Does this program including 1-1 coaching support? This program is a self-study program. This program does not include coaching support. You can learn more about our other programs at www.greyponyfilms.com
What currency are the prices in? All our prices are in USD dollars. I know that takes a bit of head scratching if you live in Europe or Australia, but I've found this handy website that makes it easy to convert the numbers into your local currency :)
What is VAT? If you live in Europe, then the grey suits in Brussels have said that all online businesses have to charge Europeans VAT. I'm sorry about that. Trust me, horses are a lot simpler to figure out, than keeping up with all this VAT stuff!
Do you have a refund policy? You bet we do! When you enroll in Beautifully Connected, and don't get all the skills, strategies & exercises you need to help you create trust, confidence & connection with your horse using 100% kind methods in the first 14 days, just send us an email at greypon[email protected] and we'll be happy to give you your money back.
What if I'm still not sure? If you've still got Qs, here is what I recommend. You can email me greyponyfilms@gmail.com and ask me any questions you have. I'm happy to help.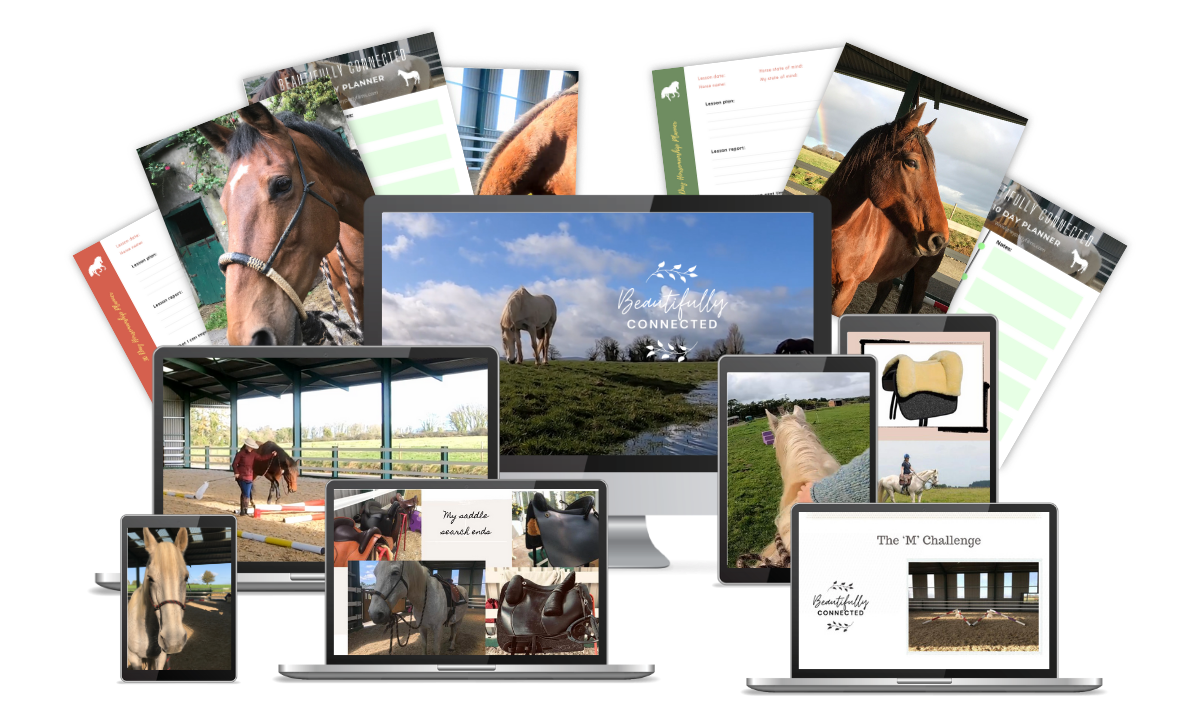 Your Instructor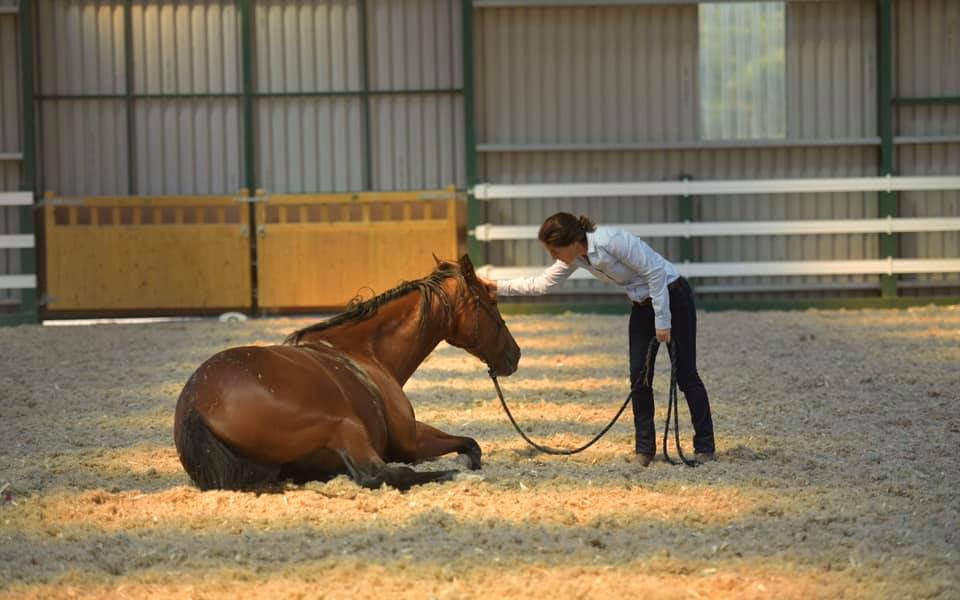 Elaine Heney is an award-winning producer and director from Ireland. She was Executive Producer on 'Out of the Wild' written by Mark Rashid, director of 'Listening to the Horse' and the award-winning documentary 'Soft Feel and Light Horses' by Steve Halfpenny. She founded Grey Pony Films, and lives in Ireland with her three horses.