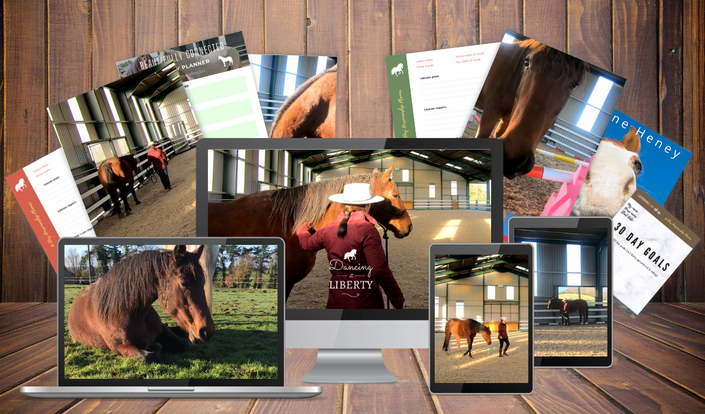 Dancing at Liberty & Creating Connection with Your Horse (11 lessons) - Grey Pony Films (with 36 months access)
Enjoy 11 Inspiring Liberty Exercises To Build Trust & Connection - While Having Fun With Your Horse!
Dreaming Of Liberty Work With Your Horse?

Enjoy 11 inspiring liberty exercises to build trust & connection while having fun with your horse.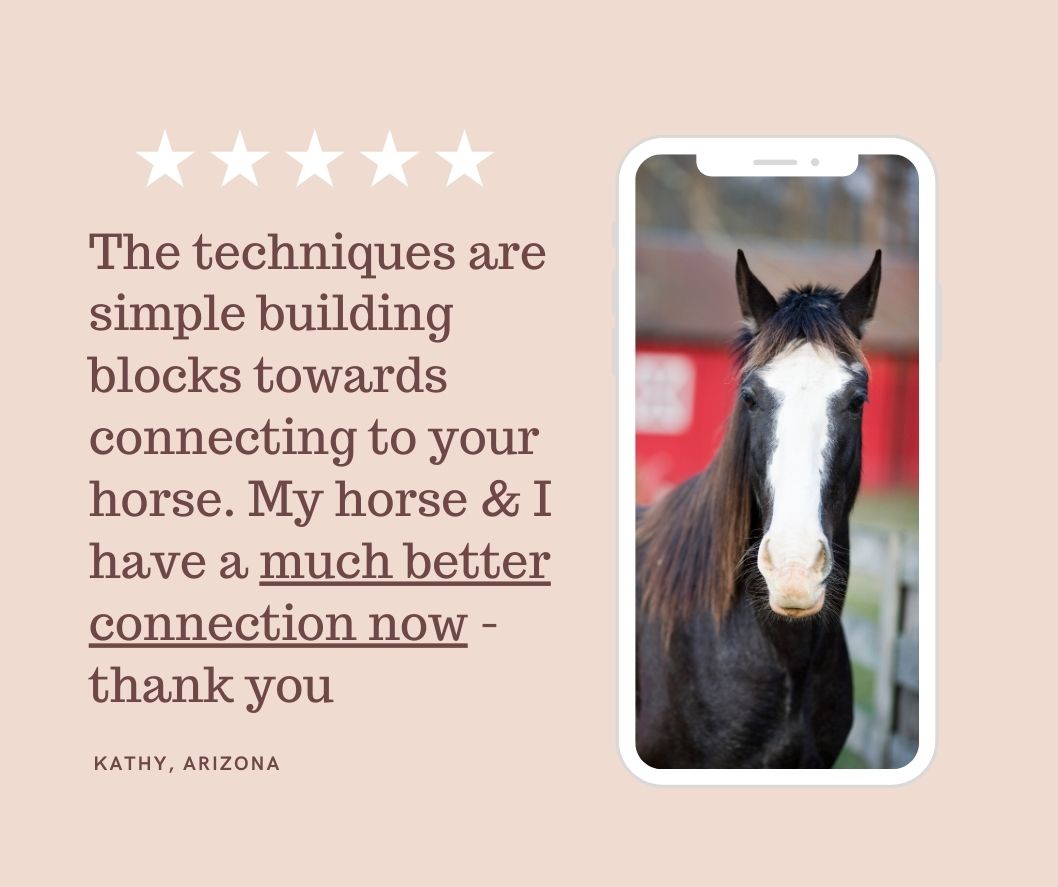 We ask A LOT from our horses. Trail ride, be brave, stand still, don't spook, do polework, get better at lateral work, bend nicely, go to lessons & clinics, practise endless circles in the arena & be confident - but what's in it for the horse?

When do we allow our horses to choose what they would like to do?
When do we open that true 2 way communication at liberty - without a lead rope or halter?
And how can we create a 100% happy partner - without feeling like we're missing a critical part of the relationship?
What if there was a simple way to build trust & connection with your horse?
A way to give your horse the gift of choice & build connection together.
With unique liberty exercises to keep groundwork interesting & fun for you & your horse.
Including the ideal 'choice-based' lessons for bad weather or when you're short on time.
A method to build connection and trust on the ground - before you ride.
So you can develop your relationship and understanding of your horse's character
Ready to create an inspiring bond & connection with your horse?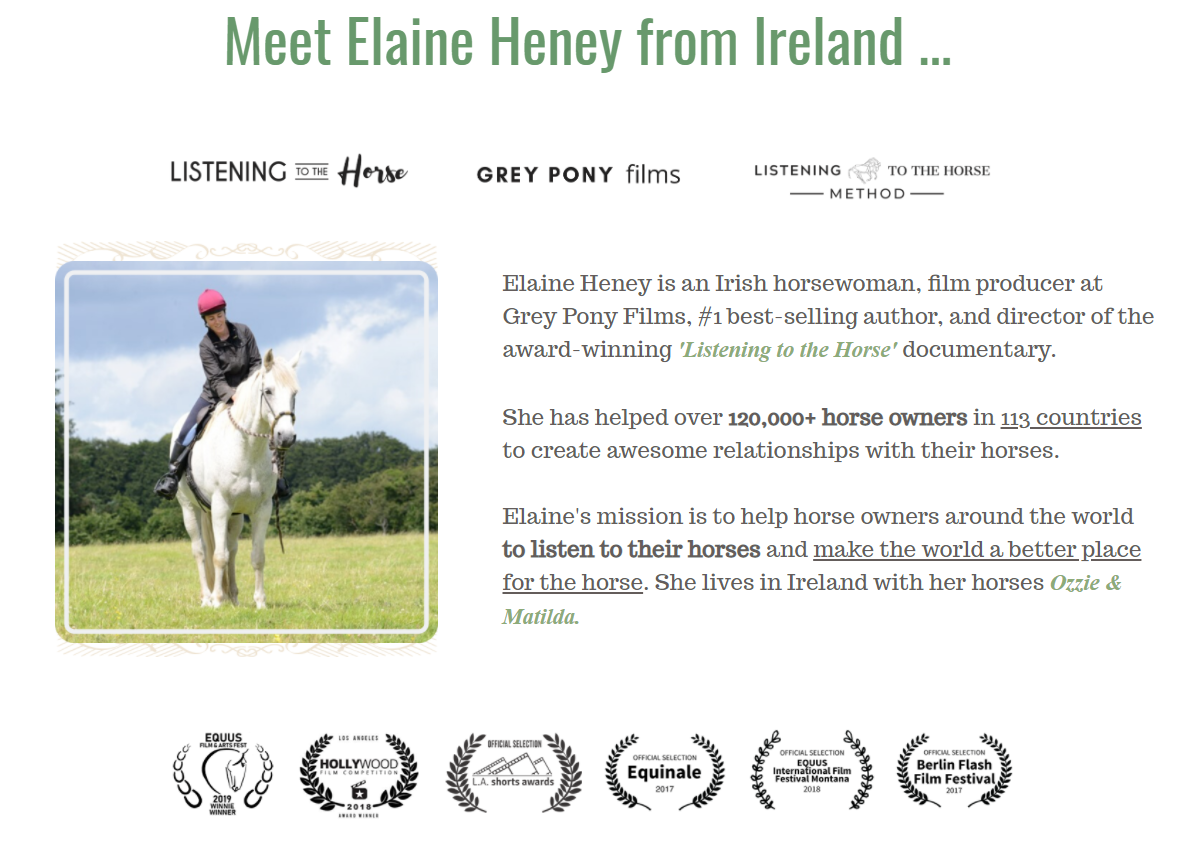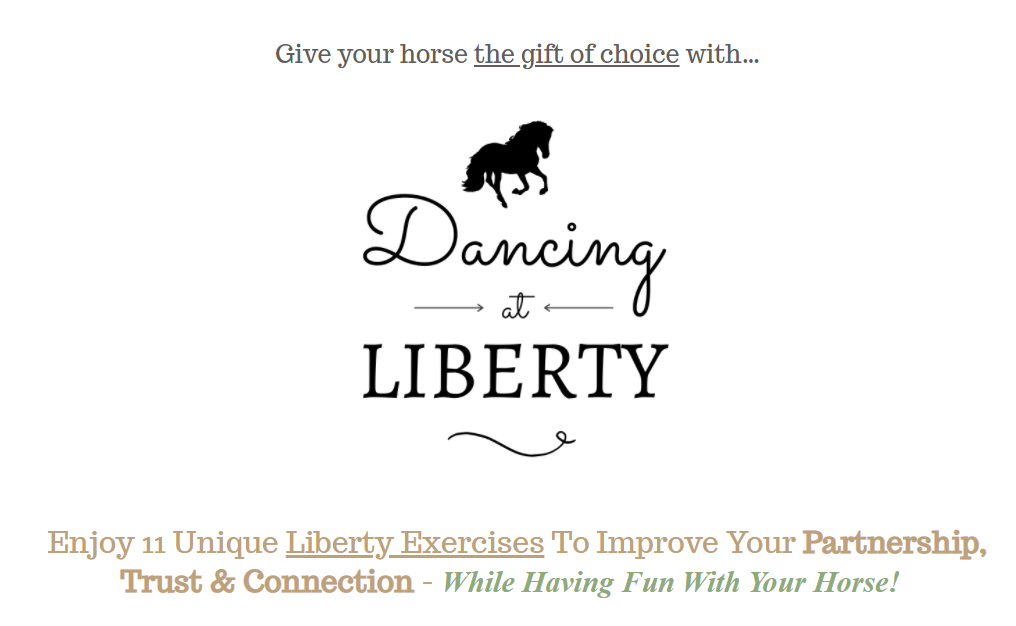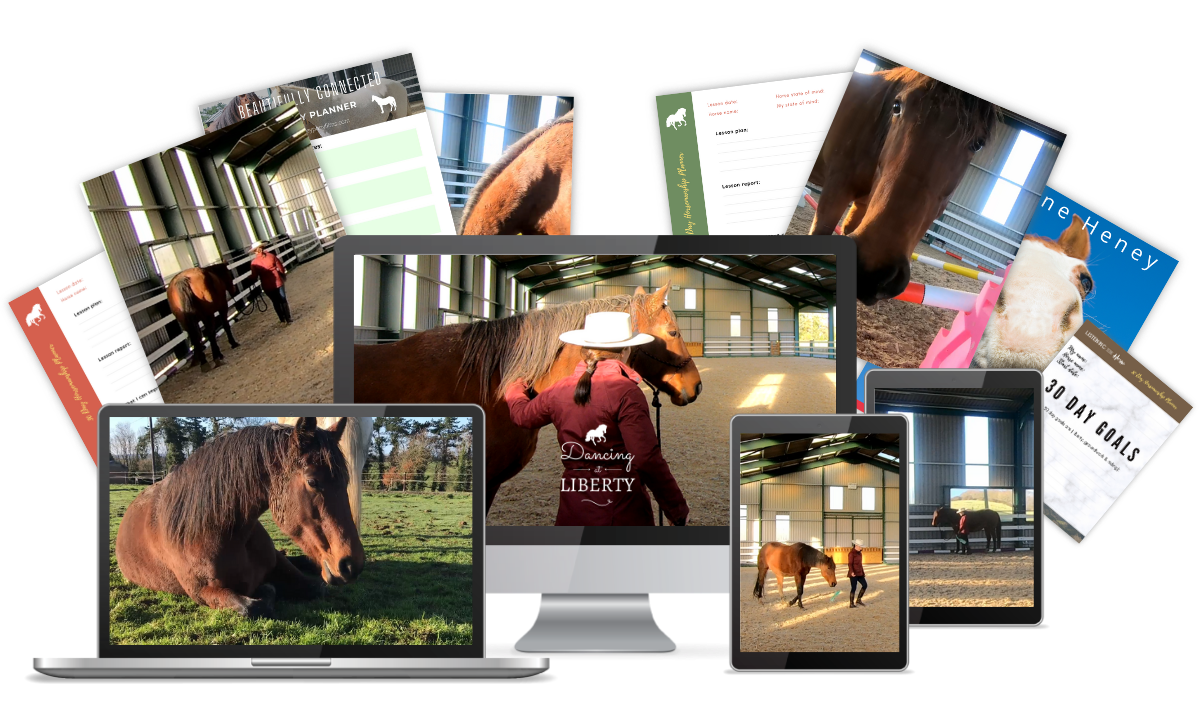 Create an inspiring connection with your horse with these 11 step by step liberty lessons...

Observe & Connect - Explore non-demanding time and improving your observation skills - to build partnership and confidence. Begin building connection together.
Meet & Surprise - Do something unexpected for your horse at liberty - which will dramatically build connection, curiosity & focus in just seconds!
Touch & Listen - Use this weirdly simple liberty body language exercise to improve your horse's confidence levels. Get 110% honest feedback from your horse!
Feel & Timing - Embrace choice to build your connection while grooming at liberty. Allow your horse to choose & improve your feel, timing & trust together.
Move & Connect - Walk with your horse at liberty and improve your horse's confidence & relaxation with this freedom of movement exercise!
Explore Together - Have fun & bond with your horse by exploring interesting obstacles together. Increase your horse's natural curiosity levels!
Play & Partnership - Play horse football at liberty & enjoy exploring & having fun together, to build an awesome relationship with your horse!
Feel & Focus - Improve your timing & begin developing the foundations to move with connection at liberty with your horse.
Balance & Sync - Help your horse to shift weight from the forequarters to the hindquarters at liberty - with this one simple exercise.
Travel Together - Begin dancing with your horse with 4 simple moves and become fluent in these in different locations & at different speeds!
Creative Liberty - Begin dancing with your horse at liberty. Build your partnership together creatively & truly connect with your horse.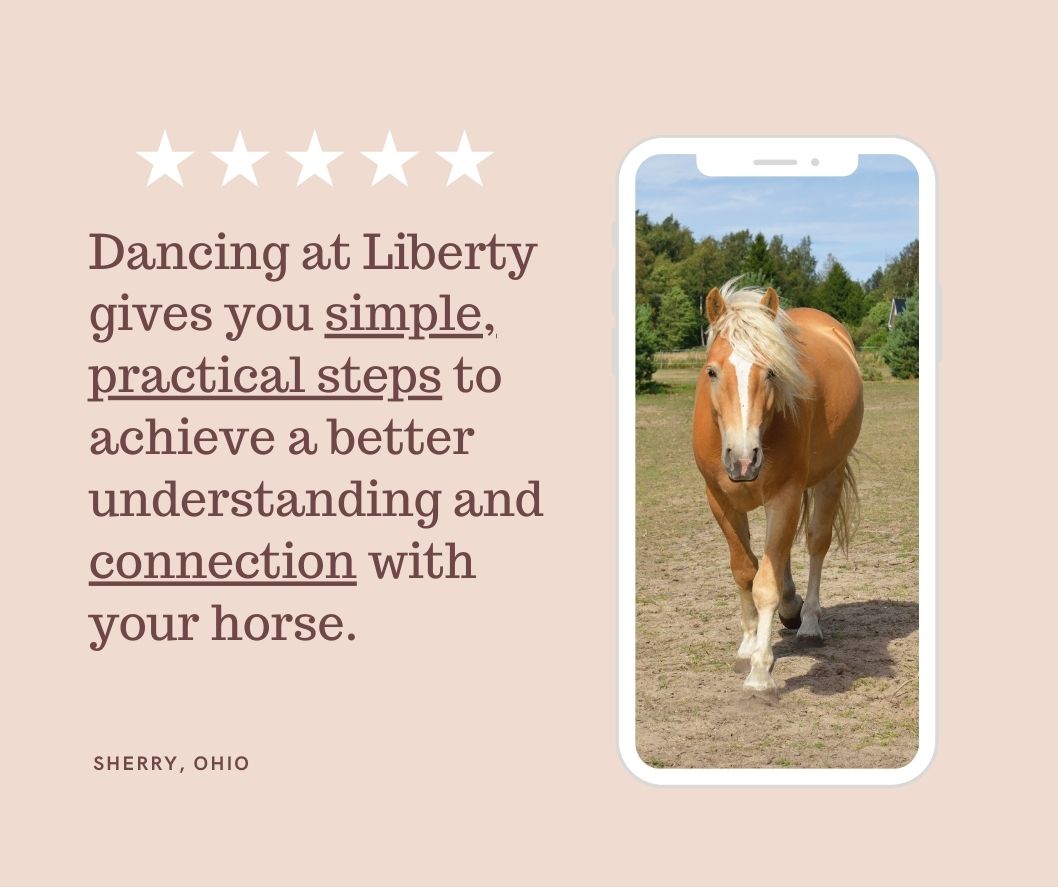 Here is everything you get:
Liberty Workshop #1: Communication & Trust. . . . . . . . . . . (Value $97)
Liberty Workshop #2: Having Fun Together . . . . . . . . . . . . .(Value $97)
Liberty Workshop #3: Dancing At Liberty™. . . . . . . . . . . . . . (Value $97)
EXTRA: Creative Liberty . . . . . . . . . . . . . . . . . . . . . . . . . . . (Value $49)
EXTRA: The 100 Miles A Month Blueprint. . . . . . . . . . . . . . (Value $10)
BONUS #1: 45 Ideas To Improve Your Riding . . . . . . . . . . . (Value $19)
BONUS #2: 30 Day Horsemanship Planner . . . . . . . . . . . . (Value $26)
BONUS #3: Facebook Community Group . . . . . . . . . . . . . . (Value $33)
Regular price = $99
Today's Price = $37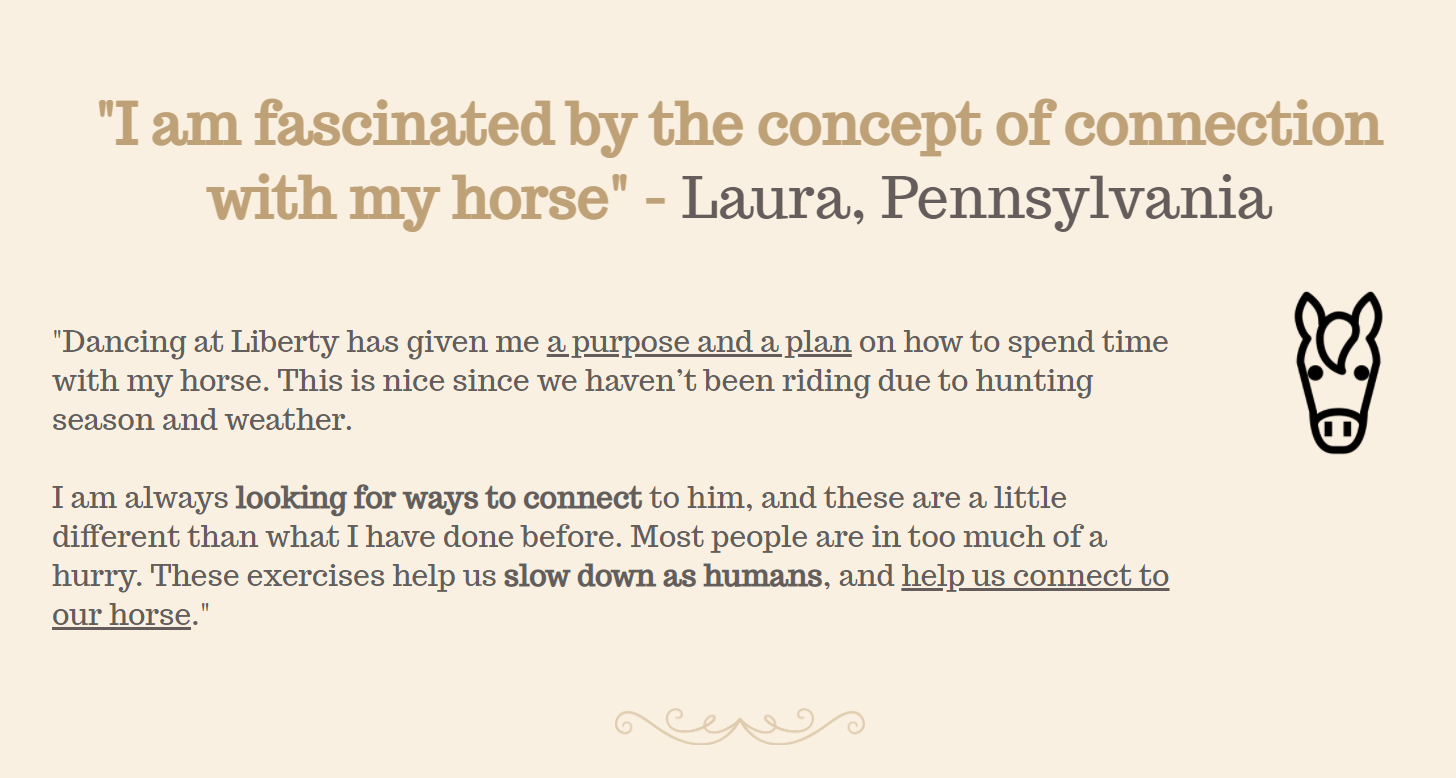 PLUS I'M ALSO ADDING IN THESE LIMITED TIME BONUSES....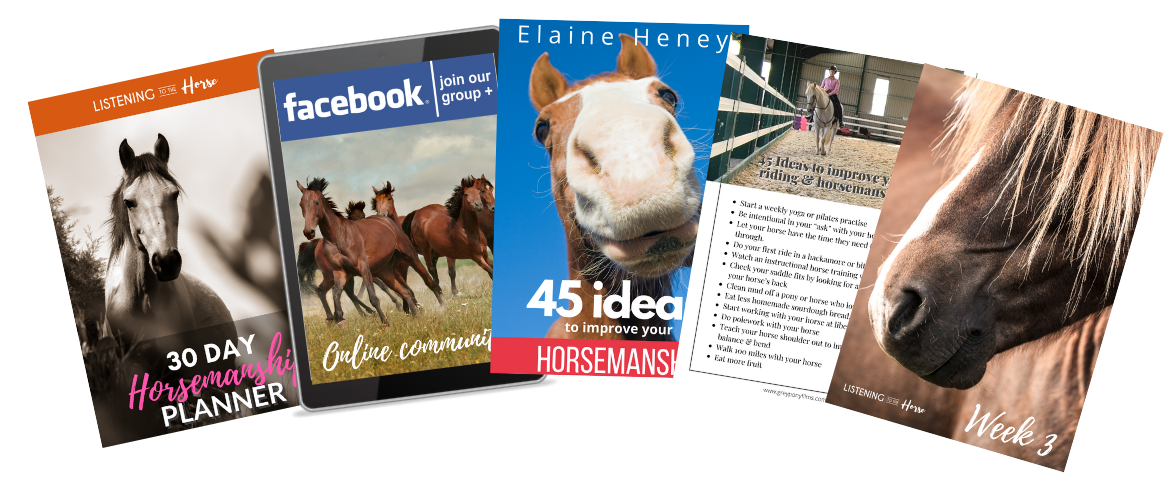 Horse Owners Guide: Enjoy 45 ideas to improve your horsemanship guide
30 Day Horsemanship Planner: Get organised with this downloadable & interactive planner
Facebook Online Community: Meet like-minded horse owners in this inspiring facebook group!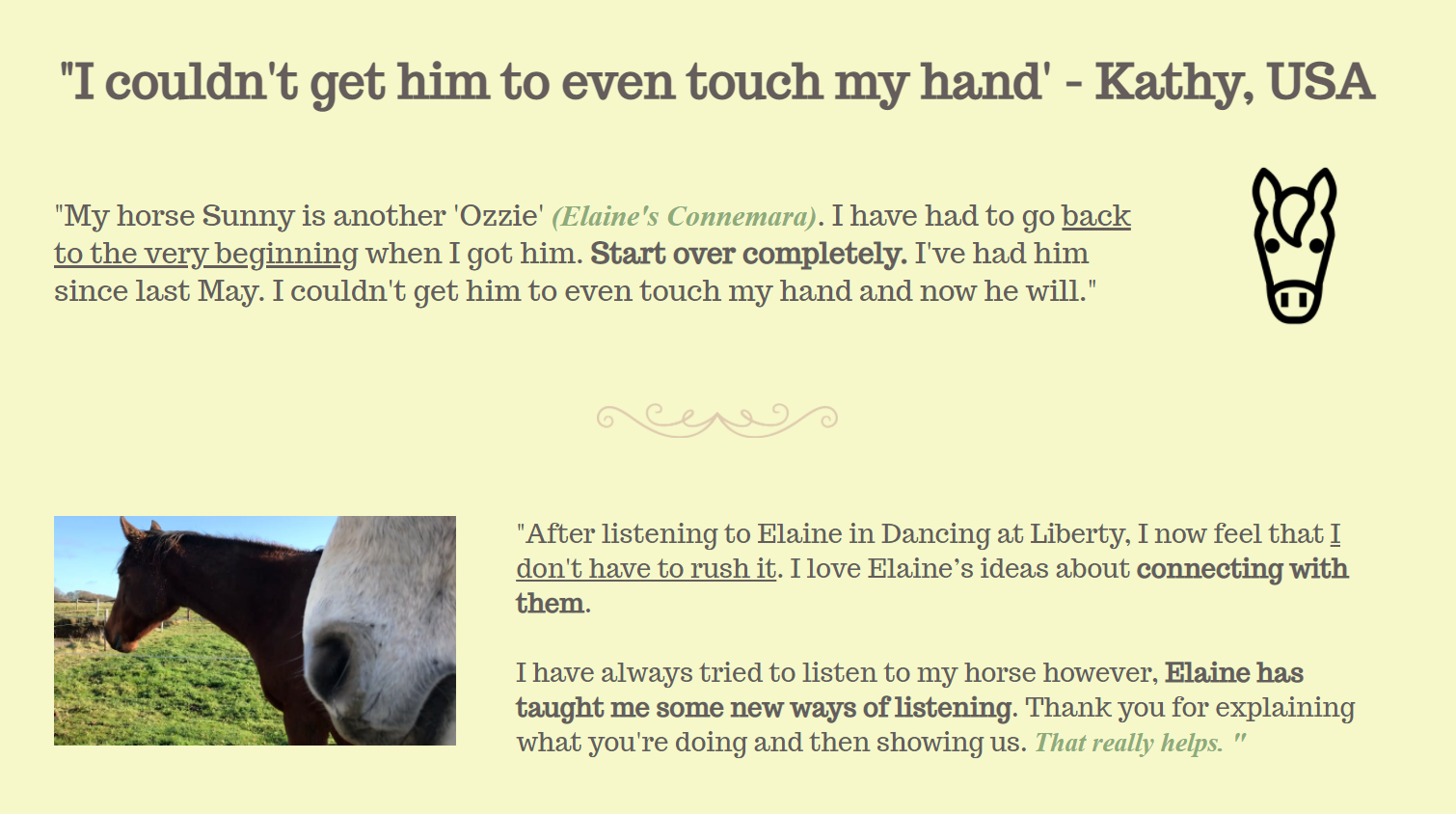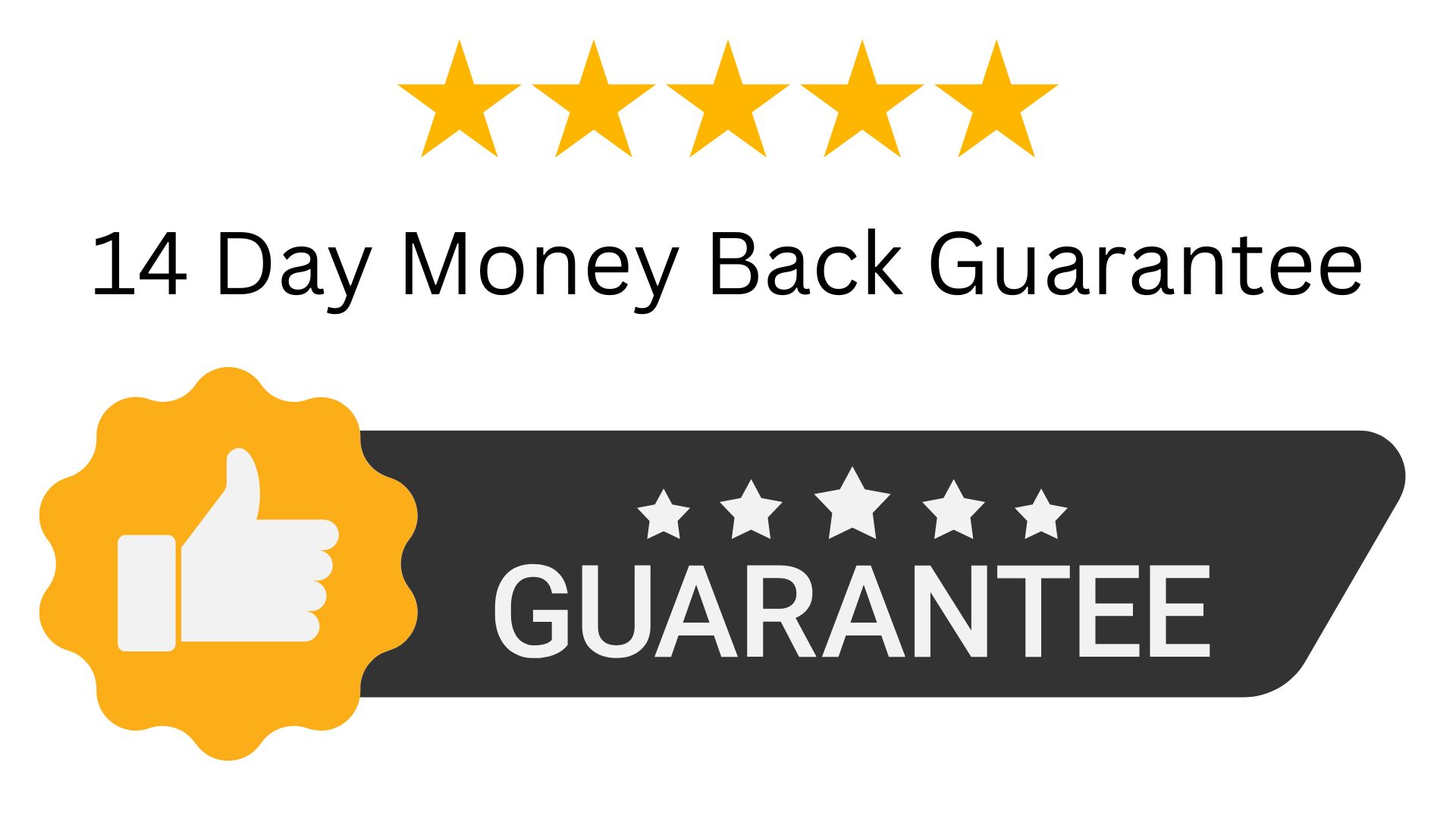 FREQUENTLY ASKED QUESTIONS
What's the format of the program? When you join, you will get a grateful kiss from your horse (who doesn't love a horse smooch?!) plus instant access to all the modules & bonuses in Dancing at Liberty™ & access to the Facebook community.
Is Dancing at Liberty™ suitable for new horses or first time horse owners? 110% yes! The first step for any horse-human partnership, is to work together and build a bond, starting with communication & connection. It is magical to see how with liberty work, how much trust & connection develops and how you can build an awe-inspiring partnership with your horse! So it's perfect if you are the proud owner of a new horse, or if your horse is the proud owner of a first time human!
Do I need an arena? No you 100% don't :) All you need is a paddock & a fence line.
How long does each session with my horse need to be? We believe in quality, not quantity. And luckily, so do our horses! So if you can spend 1 or 2 fifteen minute groundwork sessions with your horse each week - that sounds perfect. Plus with our thoughtfully designed 'small chunk' liberty lessons, you'll always be able to have fun with your horse!
I bought these exercises, how do I log in & watch them? When you purchase you will get an email with all your login details. If it hasn't arrived please check your spam & promotions folder as sometimes your email gets hidden in there (ugh, technology I know!). If it's not there, please email our team and we'll be happy to get you all set up :) Email us: [email protected]
Is this course suitable if I only do groundwork with my horse? Yes! This is a 100% groundwork only course. So it's perfect for all horses over the age of 3, non-ridden equines, and retired horses who want to have fun!
Is this for English or Western riders? These exercises are for both English & Western riders. It doesn't matter the style of your saddle or what type hat you wear. All that matters is that you love spending time with your horse & want to create an inspiring partnership together.
Do I need any special type of equipment? There are some exercises that you will need a rope & halter to begin with, before we move to liberty. If you had some obstacles around (any type!) that would be useful too.
Are these exercises suited for both horses & ponies? Yes! The all types of horses & ponies love liberty as they get to express themselves & have fun while spending time with you!
If I purchase now, can I watch the exercises later when I have more time? Absolutely! I know it's a crazy time in the world right now, so that's why you get unlimited 24/7 access to all the course modules and bonuses, on all your smartphones, laptops & ipads, for 3 years from the date of purchase.
What technology do you need? This program is 100% online! You will need a computer or smartphone/tablet connected to the internet.
Does this program including 1-1 coaching support? This program is a self-study program. This program does not include coaching support. You can learn more about our other programs at www.greyponyfilms.com
Hey Elaine, is this a one time charge? Yes! This is a one-time payment only. There is no ongoing subscription. So you don't need to worry. All you need to do is share the great news with your horse & look forward to having lots of fun together :)
What currency are the prices in? All our prices are in USD dollars. I know that takes a bit of head scratching if you live in Europe or Australia, but I've found this handy website that makes it easy to convert the numbers into your local currency :)
What is VAT? If you live in Europe, then the grey suits in Brussels have said that all online businesses have to charge Europeans VAT. I'm sorry about that. Trust me, horses are a lot simpler to figure out, than keeping up with all this VAT stuff!
Do you have a refund policy? You bet we do! When you enroll in Dancing at Liberty™, and don't get all the skills, strategies & exercises you need to have fun at liberty and help you create trust, confidence & connection with your horse using 100% kind methods in the first 14 days, just send us an email at greypon[email protected] and we'll be happy to give you your money back.
What if I'm still not sure? If you've still got Qs, here is what I recommend. You can email me greyponyfilms@gmail.com and ask me any questions you have. I'm happy to help.