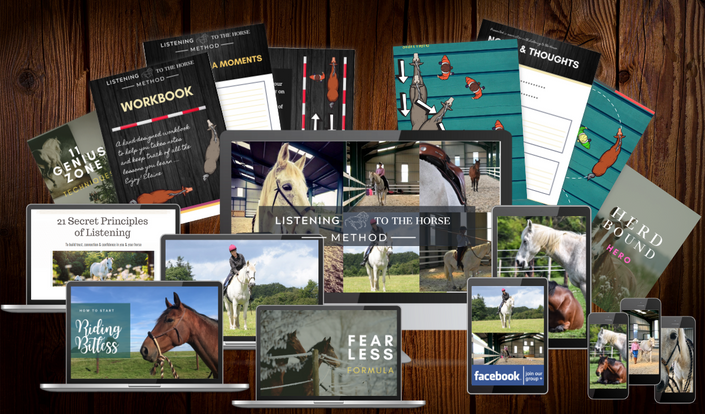 LIstenology - The Listening to the Horse Method: Self Study (with 36 months access)
Get The Tools, Skills And Strategies You Need To Develop an Awesome Riding Horse
Enroll in Course
From The Creator Of The Listening To The Horse™ Documentary...

Ready to improve your horse riding?
Discover All The Exercises, Skills & Strategies You Need To Help You Create Trust, Connection, Partnership And A Happy Riding Horse - Using 100% Kind Methods :)
Do you ever feel stuck in a rut when you're riding your horse?

Maybe you've reached a plateau that you can't seem to move past. You're doing the same things week after week - but you're running out of ideas fast. You're bored and a little frustrated, and you suspect your horse might feel the same way too. I have some good news for you today. You and your horse have the capacity to do amazing things together!
Many of our students
are in one of these 3 situations:
.
You have a novice or new riding horse and you want to build an inspiring partnership together, but you're not exactly sure where to start…
Or you struggle to find a good riding trainer locally who is kind to horses AND has the right skills & philosophy to help you succeed!
Or you dream one day of doing that perfect dressage maneuver with lightness, softness & a happy horse and not a gadget in sight.
To create a happy riding horse, the exercises & philosophy we use to train our horses are critically important.
And we've heard all the (groan) bad advice before...
Show him who's boss'. 'Put on a tighter noseband'. Or one of my favourites, 'just make him do it'.
You've seen the 'facebook experts' who tell you to use gadgets or use force to solve your issue (really?!)
Instructors advise you to ride your horse over bent, with a lot of contact and strong rein pressure (ugh!)
And there's the current fashion of riding horses 2&3 year olds, even though the risk of long term health issues is high. Don't even get me started on that one!
So here's the deal...
We are not interested in gadgets, quick fixes & riding 2 & 3 years olds.
Can I get an 'OMG YES, I wish everybody thought like this!'
Instead we want to focus on building a true relationship & working at the horse's speed.
That's why the 1st step to TRUE partnership is listening to the horse.
Most horse owners aim for 'obedience' with their horses. Or worse again, the force their horses to go through situations - when they are too scared to think & so their horses lose confidence & start having 'problems' that need to be fixed :( We don't want scared & unhappy horses!
We're not looking to ride heavy, switched-off & dull equines or own groundhog day horses who never seem to improve.
Instead we use the Listening to the Horse™ technique, and we truly work with each individual horse, build confidence in the horse, protect their natural lightness, curiosity & softness AND do it all in a way that is 110% kind to the horse.
We all want to do the best for our horses, but sometimes we can struggle with 'how to get there'...

Discover how to create a happy, balanced & soft riding horse, using the... THE LISTENING TO THE HORSE METHOD
Discover all the exercises, skills & strategies you need to help you create an awesome riding horse, using trust, connection, partnership & 100% kind methods.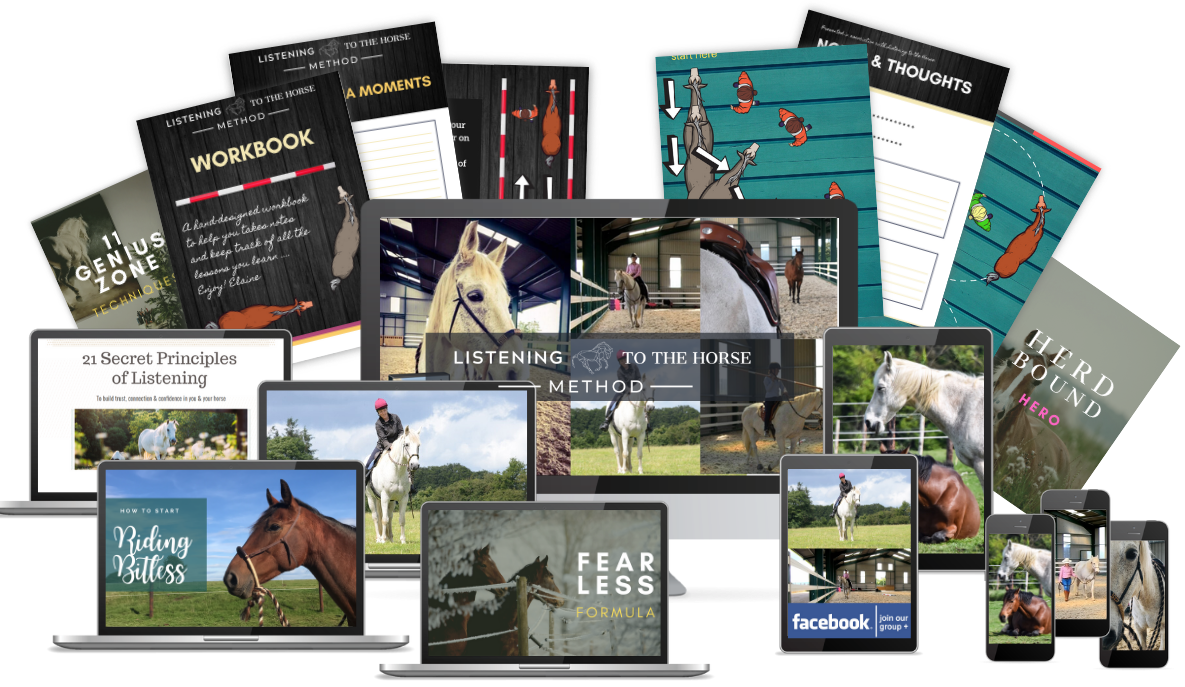 Here's what is included:
Module 1: Goal Setting, Dreams & New Friends
Module 2: Core Elements For Connection
Module 3: Genius Zone Techniques
Module 4: Groundwork for Confidence
Module 5: Lateral Work Secrets
Module 6: Collection Made Simple
Module 7: Bitless Bridles & Hackamores
Module 8: The Confidence Connection
Bonus #1: Herd Bound Hero

Bonus #2: Core Strength Training
Bonus #3: Fear less Formula
Bonus #4: Guest lessons with Jim Masterson & Steve Halfpenny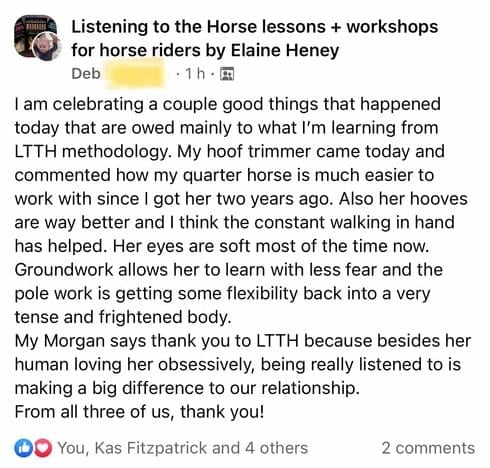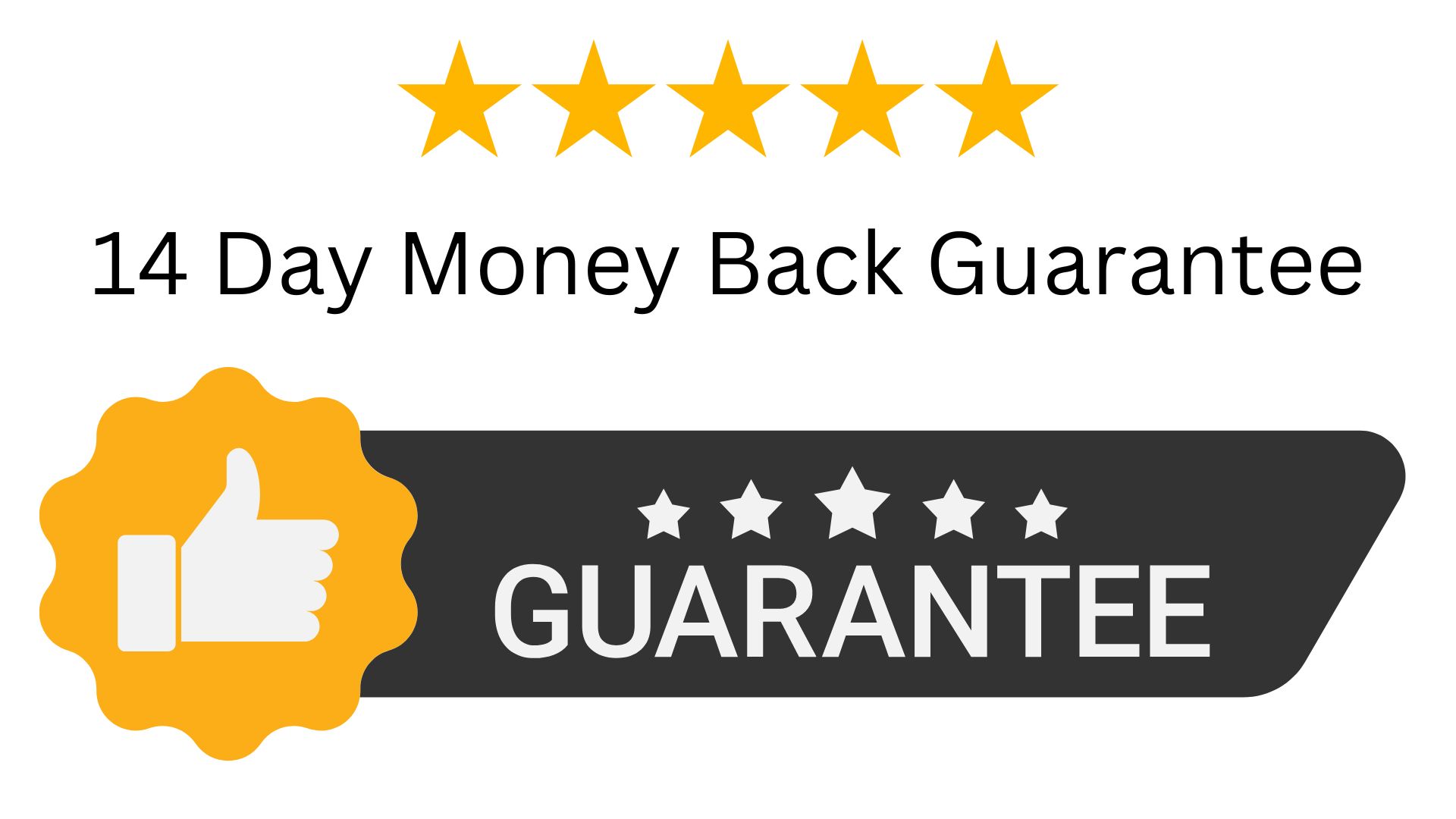 If you enroll in The Listening To The Horse Method, and don't get all the skills, strategies & exercises you need to help you create trust, confidence & connection in everything you do with your horse, on the ground & in the saddle, using 100% kind methods in the first 14 days, just send us an email at [email protected] and we'll be happy to give you your money back.
FAQs:

Is this for English or Western riders? Whether you love to ride in California in jeans & a fabulous western saddle, ride with kangaroos in Australia in a rugged Aussie stock saddle, do a shoulder out with poise & grace in a dressage saddle, or cross dress like I do, in a deliciously adjustable baroque saddle from Germany and a California hackamore, we've got you covered! The Listening to the Horse Method works for all types of riders & horses, no matter what clothes you love to wear!
Do I get access to all the modules when I join today? Yes! When you join, you will get a grateful kiss from your horse (who doesn't love a horse smooch?!) plus instant access to all the modules & bonuses in the Listening to the Horse Method self-study edition. This self-study edition does not include a facebook group, video reviews or access to our LTTH coaches.
How long does each session with my horse need to be? We believe in quality, not quantity. And luckily, so do our horses! So if you can spend 2 to 3 x fifteen minute sessions with your horse each week - that sounds perfect. Plus with our thoughtfully designed 'small chunk' exercises & strategies, you'll be able to have fun and completely avoid overwhelming you or your horse!
Is the LTTH Method suitable for new horses or first time horse owners? 110% yes! The first step for any horse-human partnership, is to work together, understand each other and build confidence. It is magical to see how much trust & connection you can develop and how you can build an awe-inspiring partnership with your horse when you listen! So it's perfect if you are the proud owner of a new horse, or if your horse is the proud owner of a first time human!
What equipment will I need? For the groundwork exercises you will need a halter. For riding, your normal saddle & bridle is fine :) So you should have everything you need already in your tack room!
Does the LTTH Method include both groundwork & riding lessons? Yes, the first 4 modules are all groundwork! Groundwork is the best way we've found to help both you & your horse build confidence & practise some really important exercises & strategies. These are also perfect for younger, novice and older horses. But because we also know that no hour of life is wasted that is spent in the saddle :) we also include TONS of riding lessons at all levels that you & your horse will love!

What technology do you need? You will need a computer or smartphone/tablet so you can watch the video modules & get inspired to try out some amazing strategies with your horse!
What currency are the prices in? All our prices are in USD dollars. I know that takes a bit of head scratching if you live in Europe or Australia, but I've found this handy website that makes it easy to convert the numbers into your local currency :)
Can I participate in the program even if I'm not riding my horse right now? Yes, the first 4 modules are for preparation work, which does not require you to ride your horse. You can also start modules 5 & 6 on the ground, with both younger and older retired horses.
My horse isn't started under saddle yet, will this program be suitable for us? At Listening to the Horse, we understand that the earliest a horse's body will be physically mature is at 5.5 years of age. As this course can all be done on the ground, all horses have to be 4 years of age or over. We are very mindful not to do too much work with young horses who are not yet fully developed.
What if I don't have time to work with my horse every day? That's fine. This program is designed so you can do it in your own time.
Who is this NOT for? If you are not willing to focus on groundwork & be patient to allow your horse to learn in their own time. If you want to use quick fixes & gadgets to solve problems. If you have very little patience. If creating trust, connection & communication is not a high priority for you. if you have a horse under 4 years of age.
My horse & 1 are experienced, confident, and we can already do a lot of lateral work & collection. Is this suitable for me? If you are looking for advanced lessons, like flying lead changes, garrocha work, or the perfect half pass, this course does not cover these more advanced elements. We can recommend other programs that may be more suitable for your skill level. Email: [email protected] for a chat anytime.
How many times can I get access to the online program? You get unlimited access, 24/7 on all internet devices, for 3 years from the date of purchase.
Does this program include feedback on videos of my horse, coaching support or a private Facebook group? This is the self-study edition & does not include these.
Do you have a refund policy? If you enroll in The Listening To The Horse Method, and don't get all the skills, strategies & exercises you need to help you create trust, confidence & connection in everything you do with your horse, on the ground & in the saddle, using 100% kind methods in the first 14 days, just send us an email at greypon[email protected] and we'll be happy to give you your money back.
Why is the price higher? If you live in Europe, then the grey suits in Brussels have said that all online businesses have to charge Europeans VAT. I'm sorry about that. Trust me, horses are a lot simpler to figure out (!), than keeping up with all this VAT stuff!
I have another question I need help with. Don't worry :) The good news is that I'm usually online every day, so just drop me an email with any questions you have to [email protected], tell me about your horses & your situation, and I will give you my honest advice on whether the LTTH Method is right for you or not.
Your Instructor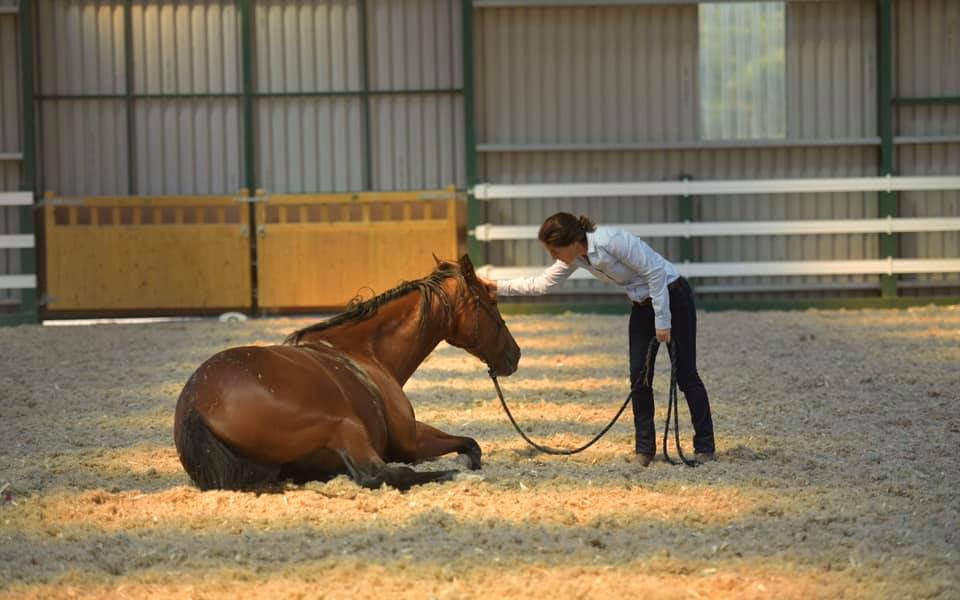 Elaine Heney is an award-winning producer and director from Ireland. She was Executive Producer on 'Out of the Wild' written by Mark Rashid, director of 'Listening to the Horse' and the award-winning documentary 'Soft Feel and Light Horses' by Steve Halfpenny. She founded Grey Pony Films, and lives in Ireland with her three horses.