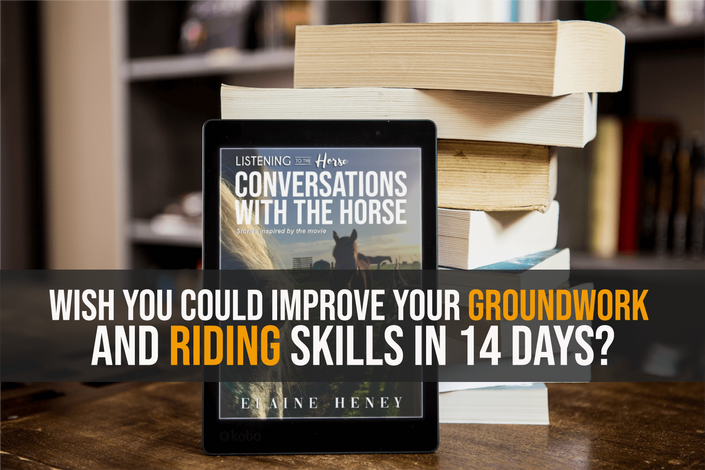 Listening to the Horse 14 Day Challenge
Wish you could improve your groundwork and riding skills in 14 days?
Well, there's a reason why the very top horsemen and women say that it takes more than 3 lifetimes to become a great horse person…
Because truly understanding a horse, and working with him in a way that is considerate and fair, to develop a relaxed, confident, light and soft horse - at all speeds - in all locations - is not easy.
But when you understand that your horse's health and happiness means the world to you, and you decide you want to learn ways to allow you to work WITH your horse... then suddenly some wonderful opportunities can open to you...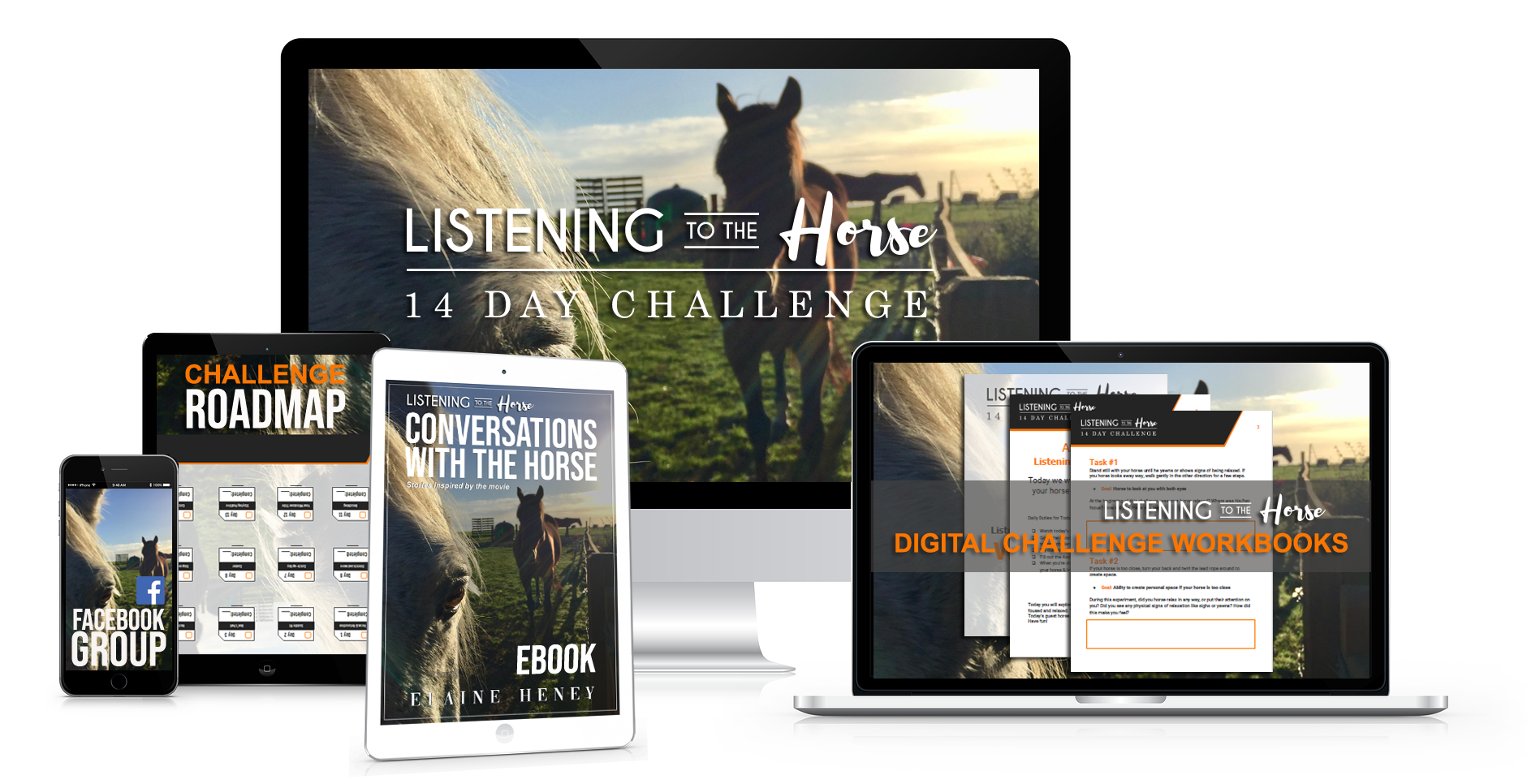 Welcome to this 14 day online challenge, that will work for you no matter what age, breed or type of horse you have.
It features some of the amazing horse people you met in Listening to the Horse, like Jeff Sanders, Lester Buckley, Steve Halfpenny and Warwick Schiller.

It also introduces some wonderful new horse people, like Callie King. Each day you will get a daily online lesson and challenge to complete. All of these lessons are fun to do and will help you and your horse to stay healthy, have fun together and improve your groundwork and riding skills.
WHAT'S INCLUDED FOR YOU:
14 Days of challenges & video lessons

Challenge creation digital roadmap

Listening to the Horse online challenge roadmap

BONUS #1: Conversations with the Horse eBook
BONUS #2: Private Facebook Challenge Community
At the end of two weeks, your horse will be lighter and softer on the ground with new methods of 'not pulling' shared by Steve Halfpenny, and be less likely to walk into you when you are leading him with help with personal space with Cathrine Fodstad.
You will be feeling more supple and healthy, and you'll have met lots of new friends in our new online community and you will also have a much more positive perspective on life!

Your ridden work will also have improved hugely, as you will fix issues like destination addiction with Warwick Schiller, get a cantering masterclass with Lester Buckley and begin to work on collection with Jeff Sanders.
If you want to know what is the next step for you and your horse, this challenge can save you months (or up to three lifetimes!) of trying to figure it out on your own. And to inspire you, you will also get the ebook version of the 'Conversations with the Horse' book to download and enjoy, plus access to our amazing facebook group.
I look forward to seeing you on the inside.
Elaine
FAQs:
What date will this challenge start? This challenge starts now!
How long do I get access to the facebook group for? You will get access for 8 weeks from the date you join this challenge.
What is VAT? Europeans will also be changed VAT based on the country you live in. This is a European rule we must adhere to.
I'm too busy right now! If you're not ready to start right now, once you enroll you can watch all the lessons in the future. You can complete the challenge in your own time - on the days that suit you best. You can do each challenge in your own schedule, as you get access to this course for 4 years from the date of purchase or the life-time of this course, whichever is greater.
If I purchase now, can I watch the challenge videos later when I have more time? Yes. This is a self-paced challenge. While you will get one new lesson daily for 14 days, you can do these at your convenience.
What currency is the price? The price is USD - American dollars.
How long do I have access for? After enrolling, you can watch and enjoy as many times as you like for 4 years - across any and all devices you own. After 4 years, your access to this challenge ends.
What happens if I fall behind? While there is a new training video every day for 14 days, you can complete this challenge in your own time.
Do I need a facebook account for this challenge? The challenge community will be based in facebook. So as the community is an important part of the challenge, I recommend you sign up for a facebook account, just for the duration of this challenge, in case you are not on facebook already. Most people are on facebook and they do have great community and group features.
How long are the daily videos? Each challenge video lesson is about 5-10 mins.
How long will it take to do the challenge each day? Depending on the day, it will take somewhere between 15 and 30 mins per day.
What level do I have to be at to do this challenge? This challenge is suitable for all levels. It contains a mixture of groundwork and riding exercises. Every day you will get an exercise to complete with your horse.
Do I need my own horse to do this challenge? You would need access to a horse to complete the daily challenges.
Do I have to be able to ride my horse for this challenge? There are some riding challenges. You can choose to do this or to skip them, it is up to you and what you feel comfortable doing.
14 Day Challenge Student Reviews:
"The 14 day 'Listening to the Horse' challenge made me think about how I am working with my horse. It is 14 days of thinking about how you interact with your horse, some fantastic advice that anyone, from a novice to an expert can use - from groundwork to in the saddle advice to make you and your horse better partners. It emphasizes partnership, good horsemanship, and great techniques that involve trust and kindness. I highly recommend it" - Sarah, USA.

"This Listening to the Horse' challenge is easy to complete, but it gave me key elements to improve upon and to deepen my relationship with my horse" - Suzie, USA
"So many riders and horses are in need of a new way to connect; My horses are responding to this like no other tools I've been using. I enjoy going down to the barn more than ever and the horses are happier" - Karen, USA.
"I really loved this challenge. From the first lesson I noticed huge change in my Icelandic horse. The next day I was able to get him to walk on the float by himself something I was never able to do, I had to lead him in! All I did was wait...wonderful! Highly recommended for all owners of horses." - Sydney, Australia
"I highly recommend this challenge as before I started it my confidence was at a low. Both my horses aren't easy horses to train but after doing this challenge, all little things I have missed I feel we have a great future together. I not a person that does clinics so this has been a step out of my comfort zone. But so glad I did and I can't wait to start my next one." - Sharon from Australia
"I have just had the most wonderful 14 day opportunity to play with my horses with a different thought pattern to how I do things normally. The other wonderful thing is that I am isolated from lots of different horse people & it is brilliant to know I'm not alone in the things I do and feel! I live in Western Australia. Thank you Elaine & all the fantastic instructors who have shared their knowledge! Thank you to everyone who also did the challenges & shared their stories!! "
"I loved the variety of easily accessible training videos, the worksheets helped me take the work to my horse and practice in a structured manner. I enjoyed sharing my feedback and experiences with the facebook group and seeing their positive responses and experiences. I felt so connected to everyone. Everything seemed more possible. I do feel that I have passed a new milestone of confidence with Alamo. He has become even calmer, but still full of character and in a variety of new and potentially difficult circumstances. My horizons have expanded again. Thank You. " Jen
"The 14 Day Challenge is great no matter what level you are at with your horse. Every day had something valuable and it was filled with fun exercises to do with your horse." Karen , United States
"This program is a great way to introduce you to a number of different experts around the world in ways to improve your relationship with your horse, to be able to 'listen' to the horse and develop that soft feel and connection that makes you and your horse partners. Each day provided a short video, questions to ask yourself, 'homework' to do with your horse, and links to the experts' web sites for further detail. In a short time you get exposed to a lot of great teachers and ideas". USA
Your Instructor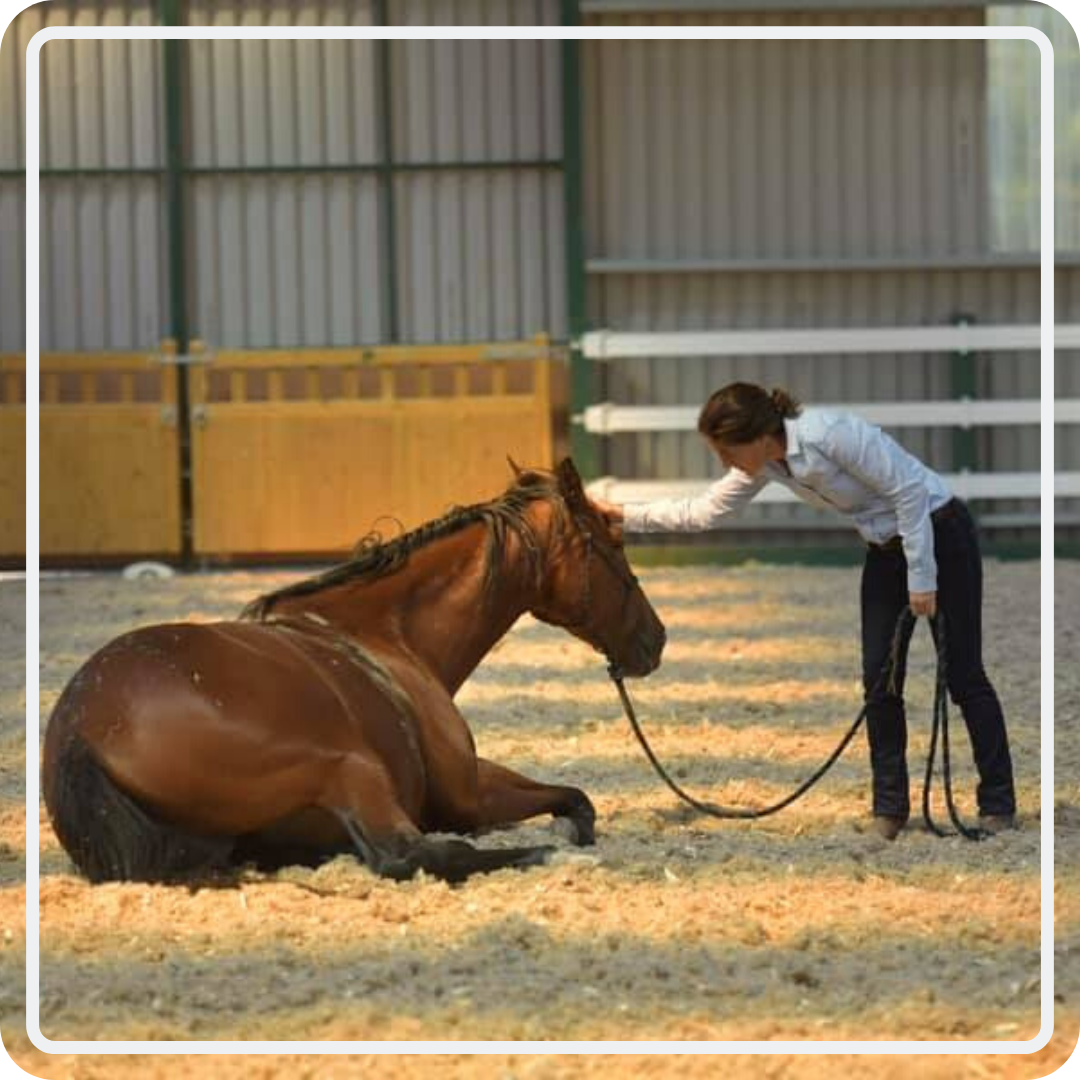 Elaine Heney is an award-winning producer and director from Ireland. She was Executive Producer on 'Out of the Wild' written by Mark Rashid, director of 'Listening to the Horse' and the award-winning documentary 'Soft Feel and Light Horses' by Steve Halfpenny. She founded Grey Pony Films, and lives in Ireland with her three horses.
Course Curriculum
Pre-training and welcome
Available in days
days after you enroll
14 Day Challenge: Day 1
Available in days
days after you enroll
14 Day Challenge: Day 2
Available in days
days after you enroll
Frequently Asked Questions
How long do I have access to the course?
After enrolling, you have unlimited access to this course, watch and enjoy as many times as you like - across any and all devices you own.
What if I am unhappy with the course?
We would never want you to be unhappy! If you are unsatisfied with your purchase, contact us in the first 10 days and we will give you a full refund.
This course is closed for enrollment.