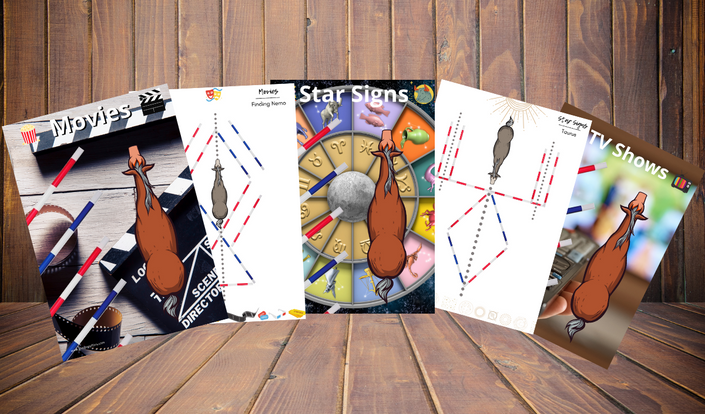 Movie Pro - Includes 154 Movie, TV Show & Astrology inspired polework exercises
Wish arena work was more interesting?
"Repeatedly riding in circles gets so boring for me and my horses!"
Going around in never-ending circles is boring - for you or your horse. It's easy to lose focus, and potentially create the bad habit of sloppiness or a lack of precision for you & your horse.

All riding horses, dressage horse and show jumpers learn best when the lessons are fun & interesting. But how we can we help our horse to improve their agility, flexibility, core strength, balance & straightness in the arena - WITHOUT getting bored in the process?!

What if there was a FUN way to spice up your riding?
A way you can add variety and challenges to everyday workouts.....
With unique challenges to keep lessons interesting for horse and human
Including new exercises - to improve your horse's balance & posture
And fun ideas to develop accuracy in your schooling figures and transitions
With instant download to your smartphone, iPad + laptop!
How would 154+ Movie, TV & Astrology inspired themed, polework exercises sound?!
Have fun in the arena with the...

Download 154 Movie, TV & Astrology inspired Polework Exercises to improve your horse's suppleness, balance, rhythm &strength!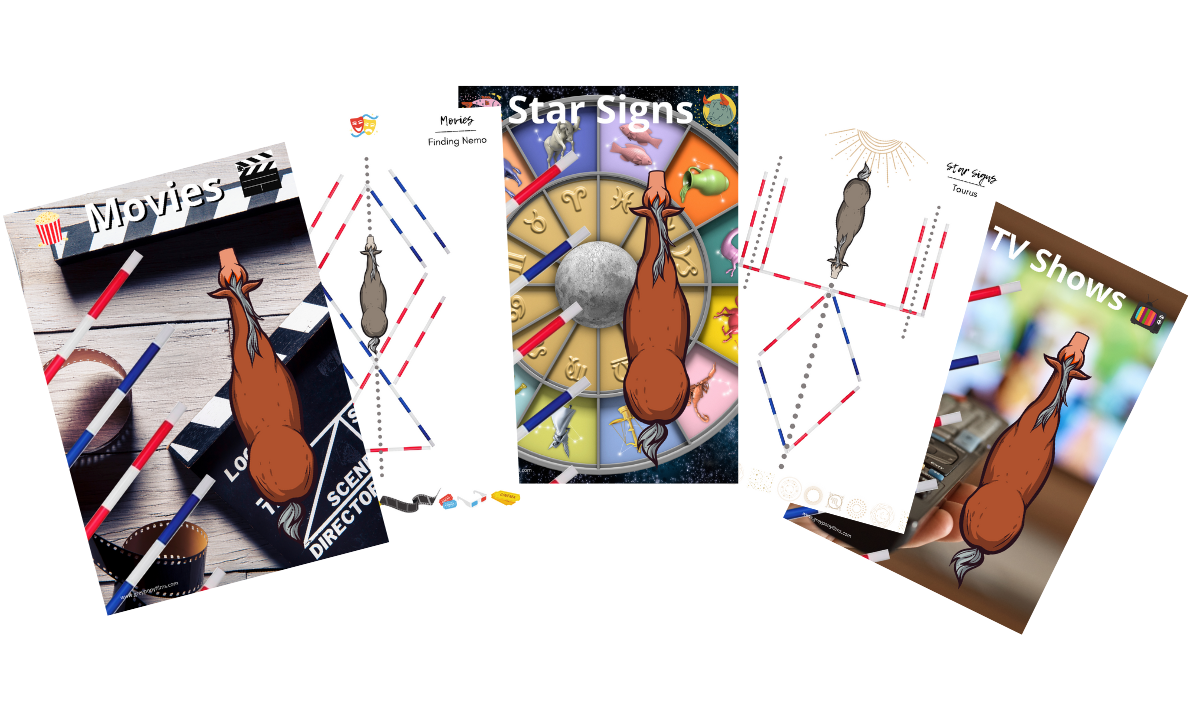 This polework bundle includes 154+ exercises:
Movie Exercises . . . . . . . . . . . . . . . . . . . . . . . . . (Value $27)
TV Exercises . . . . . . . . . . . . . . . . . . . . . . . . . . . . (Value $27)
Astrology Exercises . . . . . . . . . . . . . . . . . . . . . . (Value $27)

All Exercises Are Downloadable & SUPER Easy To Print!
Regular price = $47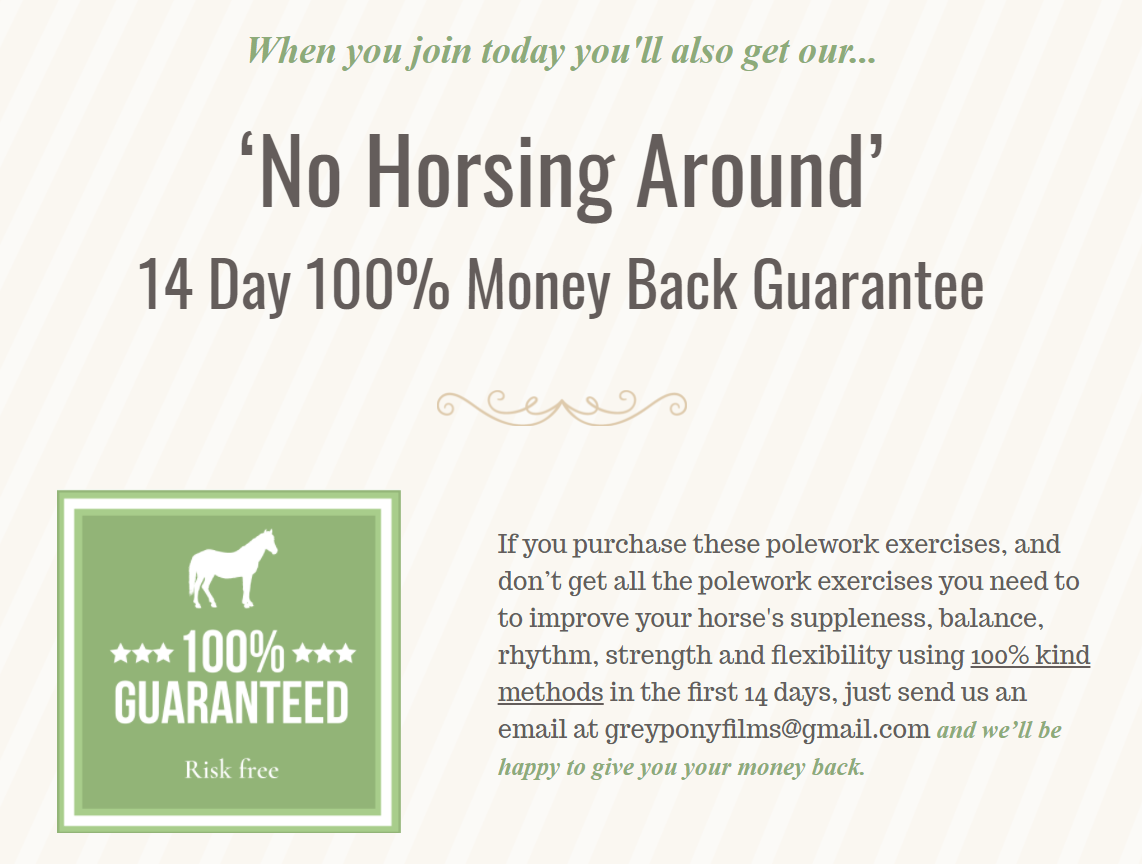 FAQS
What's the format of the program? When you join, you will get a grateful kiss from your horse (who doesn't love a horse smooch?!) plus instant access to all these polework exercises. All these exercises are downloadable to your iPad, iPhone, Android, tablet, laptop, Mac or computer. We also include printer friendly editions that are SUPER easy to print at home.
I bought these exercises, how do I log in & download them? When you purchase you will get an email with all your login details. If it hasn't arrived please check your spam & promotions folder as sometimes your email gets hidden in there(ugh, technology I know!). If it's not there, please email our team and we'll be happy to get you all set up :) Email us: [email protected]
Can I buy a hard copy version of these exercises? I get it :) Sometimes you just want a book to hold in your hand & refer to! In order to get these exercises to you as fast as possible (you know there are crazy delays with the postal right now?), all of these exercises are SUPER easy to download & we include print ready editions, that you can print out yourself at home.
Is this course suitable if I only do groundwork with my horse? Absolutely we love groundwork!! :) Many of these exercises can also be done on the ground, and are suitable for retired and non-ridden equines, so they can also improve their posture & balance.
Is this for English or Western riders? These exercises are for both English & Western riders. It doesn't matter the style of your saddle or what type hat you wear. All that matters is that you love spending time with your horse & want to create an inspiring partnership together.
Do I need an arena? No you don't :) All you need is somewhere safe to ride your horse.
How many poles do I need? We have many exercises that need only 4 poles and we have more advanced exercises that need 8-12 poles. You can use any length poles, but most people use poles between 3 and 3.5 metres in length
Where can I buy poles? I got my poles at our local tack shop in Ireland. So I'd recommend you ask your local tack shop, or check with a local hardware store. Or you can google 'showjumping poles'.
How long does each session with my horse need to be? We believe in quality, not quantity. And luckily, so do our horses! So if you can spend 1 or 2 fifteen minute polework sessions with your horse each week - that sounds perfect. Plus with our thoughtfully designed 'small chunk' exercises, you'll always be able to have fun with your horse!
Are these exercises suited for both horses & ponies? Yes! The all types of horses & ponies love polework as they get to express themselves & have fun while spending time with you!
If I purchase now, can I watch the exercises later when I have more time? Absolutely! I know it's a crazy time in the world right now, so that's why you get unlimited 24/7 access to all the course modules and bonuses, on all your smartphones, laptops & ipads, for 4 years from the date of purchase or the life-time of this course, whichever is greater.
What technology do you need? This program is 100% online! You will need a computer or smartphone/tablet connected to the internet.
Does this program including 1-1 coaching support? This program is a self-study program. This program does not include coaching support. You can learn more about our other programs at www.greyponyfilms.com
What currency are the prices in? All our prices are in USD dollars. I know that takes a bit of head scratching if you live in Europe or Australia, but I've found this handy website that makes it easy to convert the numbers into your local currency :)
Is this a one time charge? Yes, you bet it is :) This is a 1 time payment.
What is VAT? If you live in Europe, then the grey suits in Brussels have said that all online businesses have to charge Europeans VAT. I'm sorry about that. Trust me, horses are a lot simpler to figure out, than keeping up with all this VAT stuff!
Do you have a refund policy? You bet we do! If you purchase these polework exercises, and don't get all the polework exercises you need to to improve your horse's suppleness, balance, rhythm, strength and flexibility using 100% kind methods in the first 14 days, just send us an email at [email protected] and we'll be happy to give you your money back.
What if I'm still not sure? If you've still got Qs, here is what I recommend. You can email me [email protected] and ask me any questions you have. I'm happy to help.
Take the next step and get MOVIE PRO today.