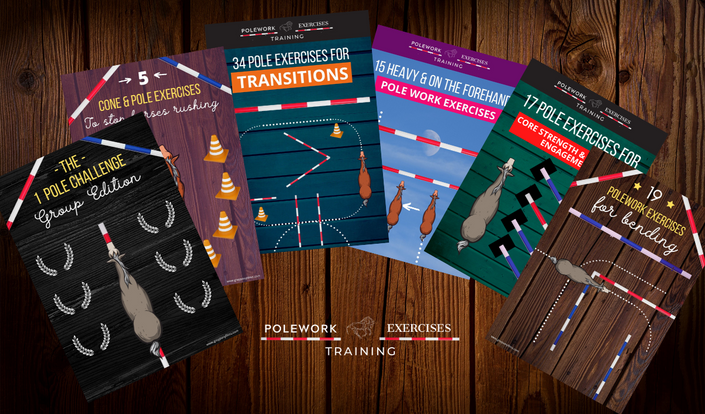 Horse Listener: Pole Exercises GOLD Edition (with 36 months access)
91 Pole Exercises for Bending, Heavy on the Forehand, Horses who Rush, Transitions, Strength in the Hind End & Core Engagement
I've got a lot of emails from students who have loved these pole exercises, but who wished they could have EXTRA exercises to improve bending, to help horses who are heavy on the forehand, exercises to improve core strength & hind end engagement, exercises to stop horses rushing, PLUS some useful exercises to help improve transitions.
So have put together a new Pole Exercises GOLD Edition with 91 brand new pole & cone exercises!
This toolkit is full of downloadable resources you can download & print, and use in the arena with your horse. No wifi required.
INTRODUCING THE POLE EXERCISES GOLD EDITION: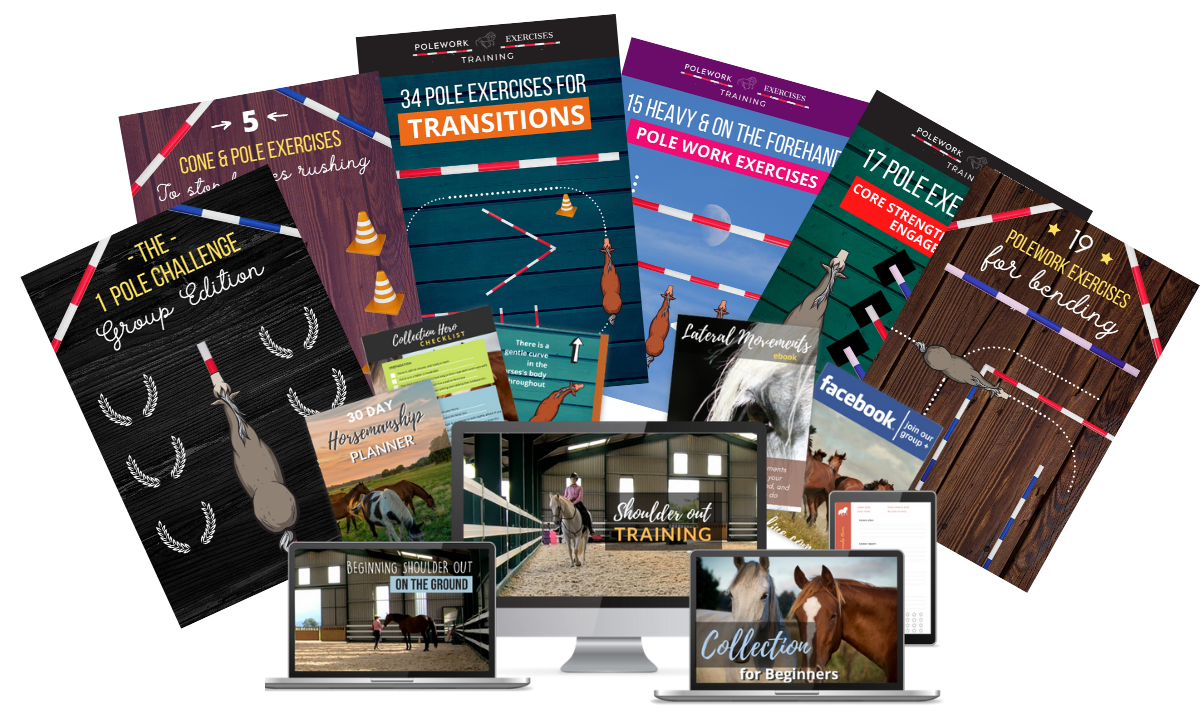 90+ Pole Exercises For All Levels & Breeds!
Includes 91 quick and easy pole layouts
Improve your horse's precision, agility & focus
Enjoy core strength, hind end engagement, slowing down, balance & bending exercises
Includes 34 unique transitions exercises
Makes riding interesting, challenging and fun!
When you join today you will get the following exercises & bonuses:
34 Pole Work Exercises for Transitions
17 Pole Exercises for Core Strength & Hind End Engagement
15 Heavy & On the Forehand Pole Work Exercises
5 Cone & Pole Exercises to Stop Horses Rushing
19 Polework Exercises for Bending
The 1 Pole Challenge: Group Edition (perfect for barns & livery yards)
Includes 91+ Strategic Pole Work Exercises!
BONUS: Shoulder Out Training video lessons, for better balance, bend & topline development with your horse
BONUS: 6 Week Polework Training Plan For You & Your Horse
Purchase today, and get access to all these exercises for just $99 USD (excludes VAT or Sales Tax).

FAQS:

Can I download all the exercises? All the polework diagrams & layouts are downloadable to smartphone, tablets & laptops. Perfect to use in the arena with your horse :)
Can I download the 6 week polework training plan, so I can use it when I'm working with my horse? Yes
What's the format of these exercises? When you purchase, you get immediate access to everything in this training.
What is VAT? Europeans will also be changed VAT based on the country you live in. This is a European rule we must adhere to.
If I purchase now, can I access this when I have more time? Yes. You can download these exercises at your convenience. You will get access for 3 years from the date of purchase.
Hey Elaine, is this a one time charge? Yes! This is a one-time payment only. There is no ongoing subscription. So you don't need to worry. All you need to do is share the great news with your horse & look forward to having lots of fun together :)
What currency is the price? The price is USD - American dollars.
Is this for English or Western riders? These exercises are for both English & Western riders. It doesn't matter the style of your saddle or what type hat you wear :)
Do you have a refund policy? Yes we have a 14 day 100% money back refund policy.
What if I'm still not sure? If you've still got Qs, here is what I recommend. You can email me greyponyfilm[email protected] and ask me any questions you have. I'm happy to help