One of the biggest frustrations for riders is struggling to improve our posture in the saddle. While we all aim to be perfectly balanced riders and want to make easy for our horses to carry us, often times MAJOR things get in the way.
Like spending hours every day slouching at a computer at work or watching movies. Or hunching our shoulders for more than an hour each day while we are checking our facebook updates.
Or not addressing our old injuries, and not being aware of how much they are influencing our horses.
Even just something as simple as not checking to see if our saddles fits us correctly, can negatively our posture in the saddle.
So while we may struggle with a horse who doesn't listen to our cues, or who won't bend nicely to the right (or the left), or who finds it hard to pick up the left canter lead, or who carries too much worry and stress... perhaps it's not the horse causing these issues.
Maybe it's actually us causing them, with our bad posture habits.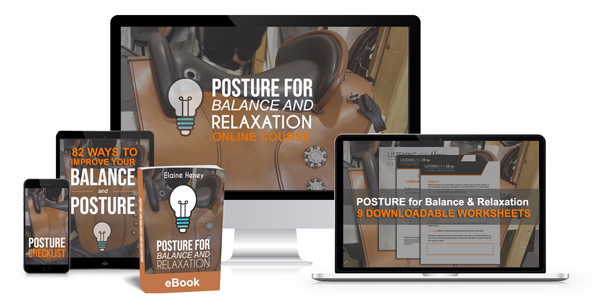 So I've put together a one of a kind course that will help you to identify and resolve many of the bad posture and balance habits that are impeding your riding. It also includes over 80 proven ways to improve your posture and balance in the saddle from our Listening to the Horse community.

I look forward to joining you on your journey to great posture & balance in the saddle.
Elaine Heney