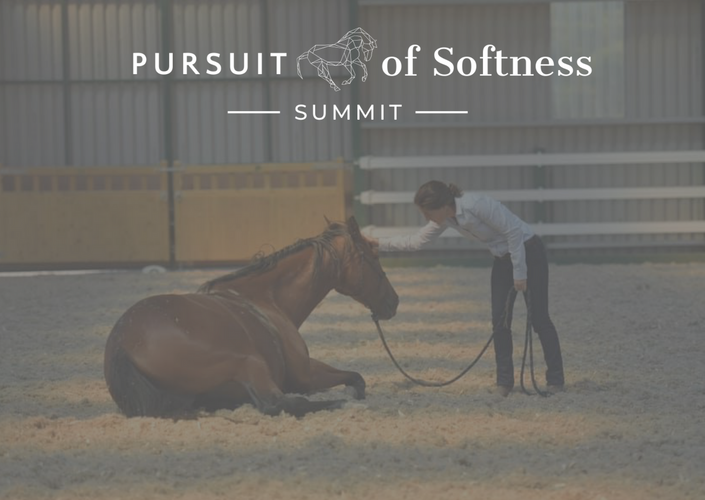 Pursuit of Softness Summit
Enjoy 8+ hours of horsemanship, groundwork & riding lessons, with inspiring horse people who listen to the horse
Discover how to improve your partnership, connection and develop softness while listening to the horse. Suitable for all levels, ages and disciplines of horses and riders. Upgrade and get the Pursuit of Softness Summit All Access Pass today!
FEATURING REMARKABLE HORSE PEOPLE...
The Pursuit of Softness Summit brings together the most inspiring horsemen and women in the world, who share practical horsemanship training, online lessons and demonstrations to help you develop softness and build a great relationship with your horse.
In includes online lessons with Yvet Blokesch, Steve Halfpenny, Elaine Heney, Alexandra Clerc Fitts, Warwick Schiller, Zsolt Varga, Ben Longwell, Carola Colson - van 't Hof, Hannah Weston and many more.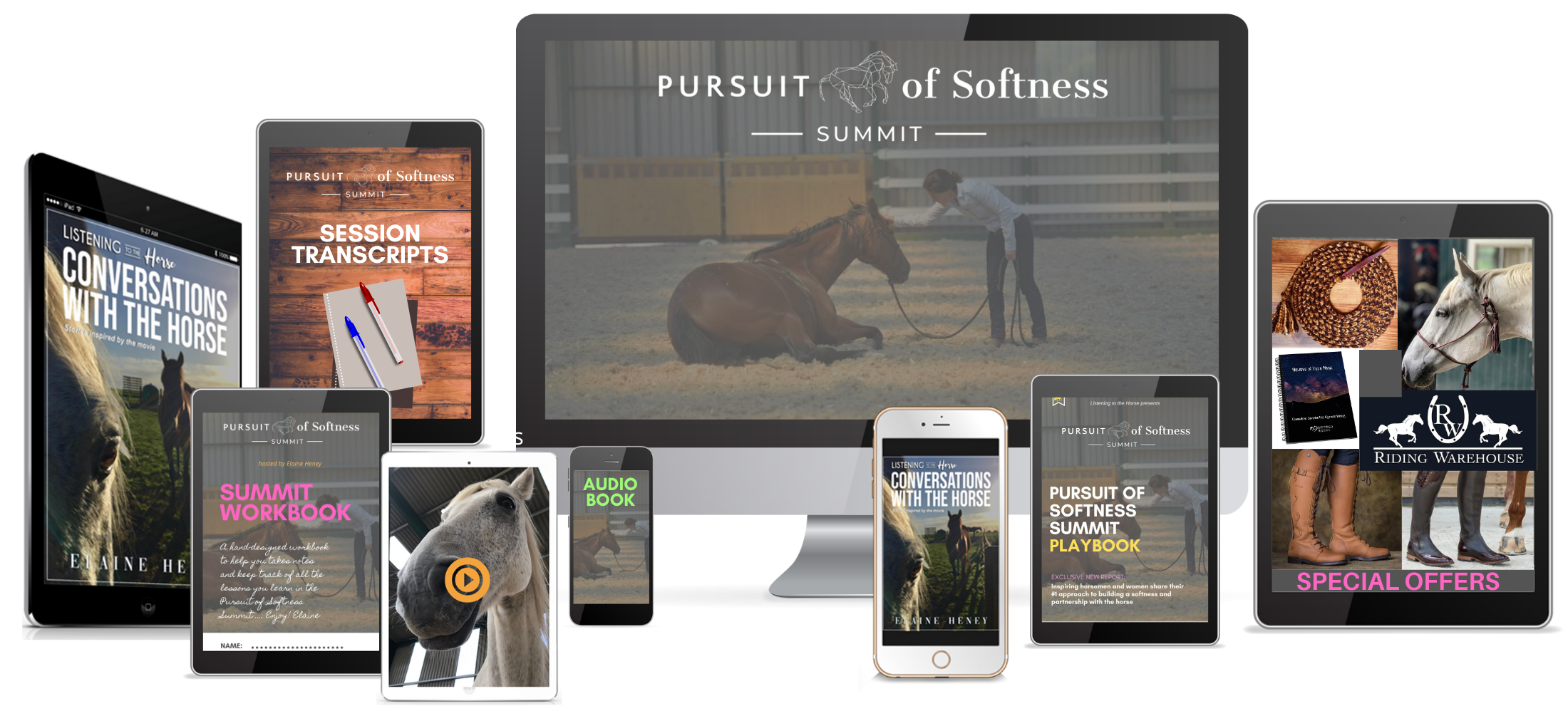 GET THE ALL ACCESS PASS NOW:

The All Access Pass (value $1,146) includes:
Instant access to over 8 hours of online lessons ($497 Value)
17 Pursuit of Softness Summit Transcripts ($147 Value)
17 Downloadable Summit Audio Files ($183 Value)
Pursuit of Softness Summit digital workbook ($99 Value)
3 Bonus Mini-Documentaries by Grey Pony Films ($83 Value)
Conversations with the Horse audio book & ebook ($37 Value)
5 x Special deals and discounts from our sponsors (worth $100's)
BONUSES: Get these great deals with your all access pass!
When you purchase this summit All Access Pass, you will also get (subject to availability):
15% off selected Riding Warehouse online products
10% off leather halters
£10 off Bareback footwear riding boots
10% off the Inspired Riding's Companion Journal
10% discount on any Custom Paracord or mohair Mecate
Don't miss out!
Get Unlimited Access To All the Pursuit of Summit World-Class Masterclass Sessions Plus $647 in Exclusive Limited-Time Bonuses.
FAQs:

Is there a money back guarantee? There is a 14 day, no questions asked money back guarantee.
I'm too busy right now to watch the summit! If you're not ready to watch the summit right now, when you purchase this ALL ACCESS PASS, you can watch all the summit lessons on any device, as many times as you wish, with unlimited access, 247, for 4 years from the date of purchase or the life-time of this course, whichever is greater.
What currency is the price? The price is USD, American dollars.
Why is the price higher? If you live in Europe, VAT is automatically added to the price. This is a European law.
How long are the videos? There is over 8 hours of horsemanship lessons in total, included in this summit.
What level do I (or my horse) have to be at to do this summit? This summit is suitable for all levels, all ages, all disciplines and all breeds of horses.
Your Instructor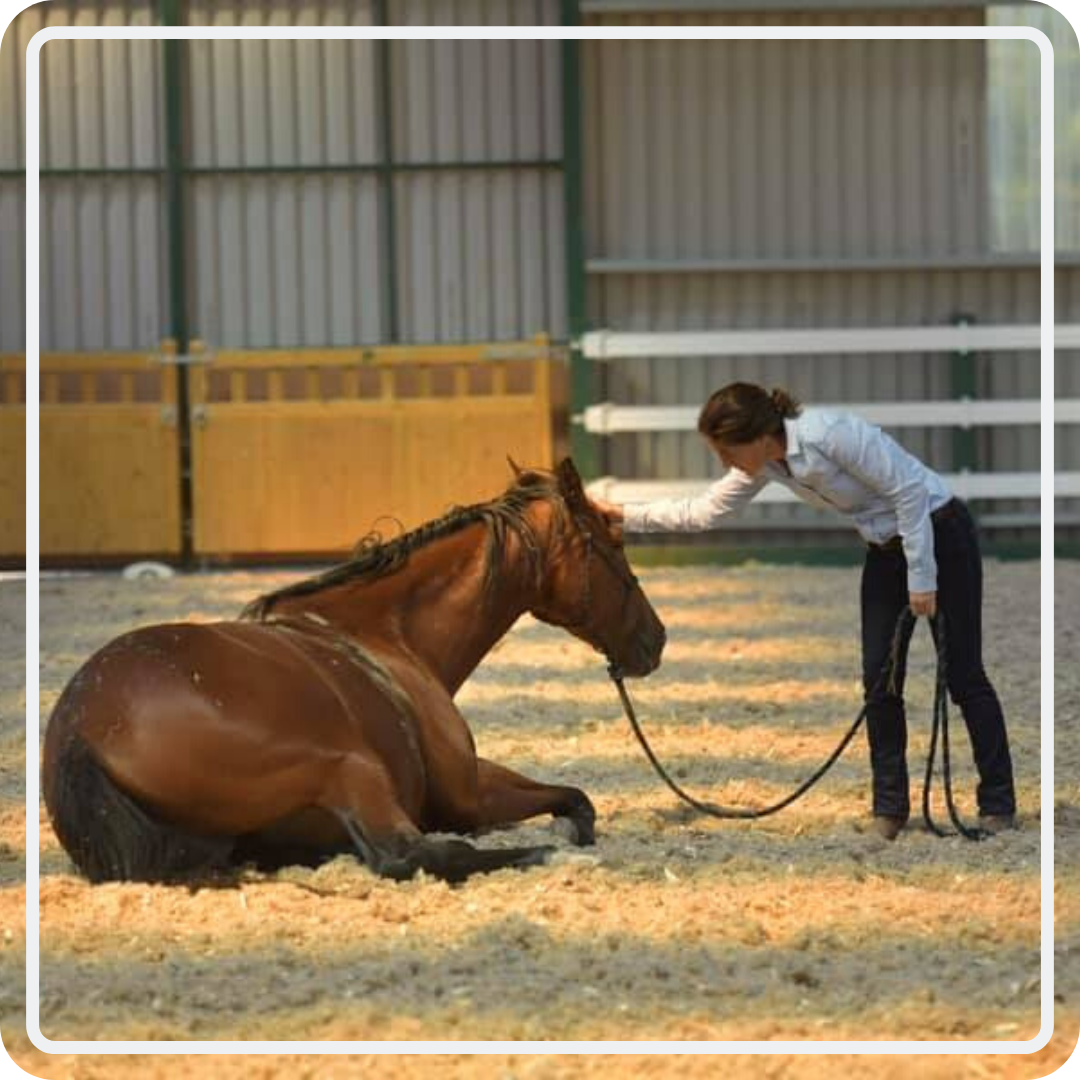 Elaine Heney is an award-winning producer and director from Ireland. She was Executive Producer on 'Out of the Wild' written by Mark Rashid, director of 'Listening to the Horse' and the award-winning documentary 'Soft Feel and Light Horses' by Steve Halfpenny. She founded Grey Pony Films, and lives in Ireland with her three horses.
Frequently Asked Questions
When can I use the ALL ACCESS PASS?
After enrolling, you have unlimited, instant access to this ALL ACCESS PASS across any and all devices you own, 24/7, watch as many times as you like.
What if I am unhappy with the Pursuit of Softness Summit ALL ACCESS PASS?
We would never want you to be unhappy! If you are unsatisfied with your purchase, contact us in the first 14 days and we will give you a full refund.