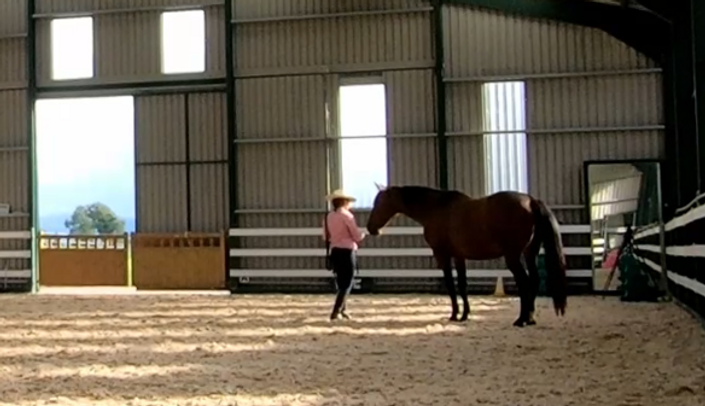 Shoulder Out Training
Improving your horse's physical heath with lateral work and collection - without gadgets or fear - even if you have NO IDEA how to begin!
We all want the best for our horses. I believe that every horse should be treated kindly, and trained and ridden in a way that protects their long-term health.
But 'collection' and 'lateral work' are terms that are very mis-understood, and have been difficult to figure out for many horse owners.
And as a result, a lot of us tend to ride at home, or join friends for trail riding..... and our horses spend a lot of their time on the forehand.

And many problems begin, like your horse being heavy or pushy, or looking oddly like a giraffe with a his head up in the air and a hollow back.
And I get it. You can feel stuck, confused and frustrated. It's not a nice place to be in.
However our horses need us to step up to the plate.
Riding with a lot of weight on the forehand can damage your horse's long term physical health. It makes it more difficult for horses to carry the rider, and can even cause things like kissing spines, back issues, early retirement, joint problems and feet issues.
But what if there was a way to TEACH your horse - with kindness and consideration - how to begin lateral work... WITHOUT needing a dressage riders 'death-grip'?
What if there was an easy to to start both lateral work on the ground AND in the saddle, WITHOUT pulling, or gadgets or force?
A way that you will scratch your head and say.... 'Elaine, If I knew it was that straight-forward, I would have done this years ago!'
I've been in your position and I've figured out the #1 thing you need to do - and it's not hugely difficult - to begin developing lateral work and collection with your horse.
Even if you have an older horse who isn't ridden any more
Even if you are an older rider
Even if you have a young horse who hasn't even started riding yet!
Even if you want to fix these issues in an experienced riding horse
Even if you have a busy job, gorgeous but time-consuming kids and only have 10-15 mins per week with your horse!
SHOULDER OUT TRAINING
Get ready to have fun with your horse while learning:
The preparation exercises to do with your horse to get ready to do shoulder out
How to begin shoulder out on the ground (great to help your horse understand this movement)
How to begin riding shoulder out in the saddle
When you are ready, enjoy some advanced shoulder out training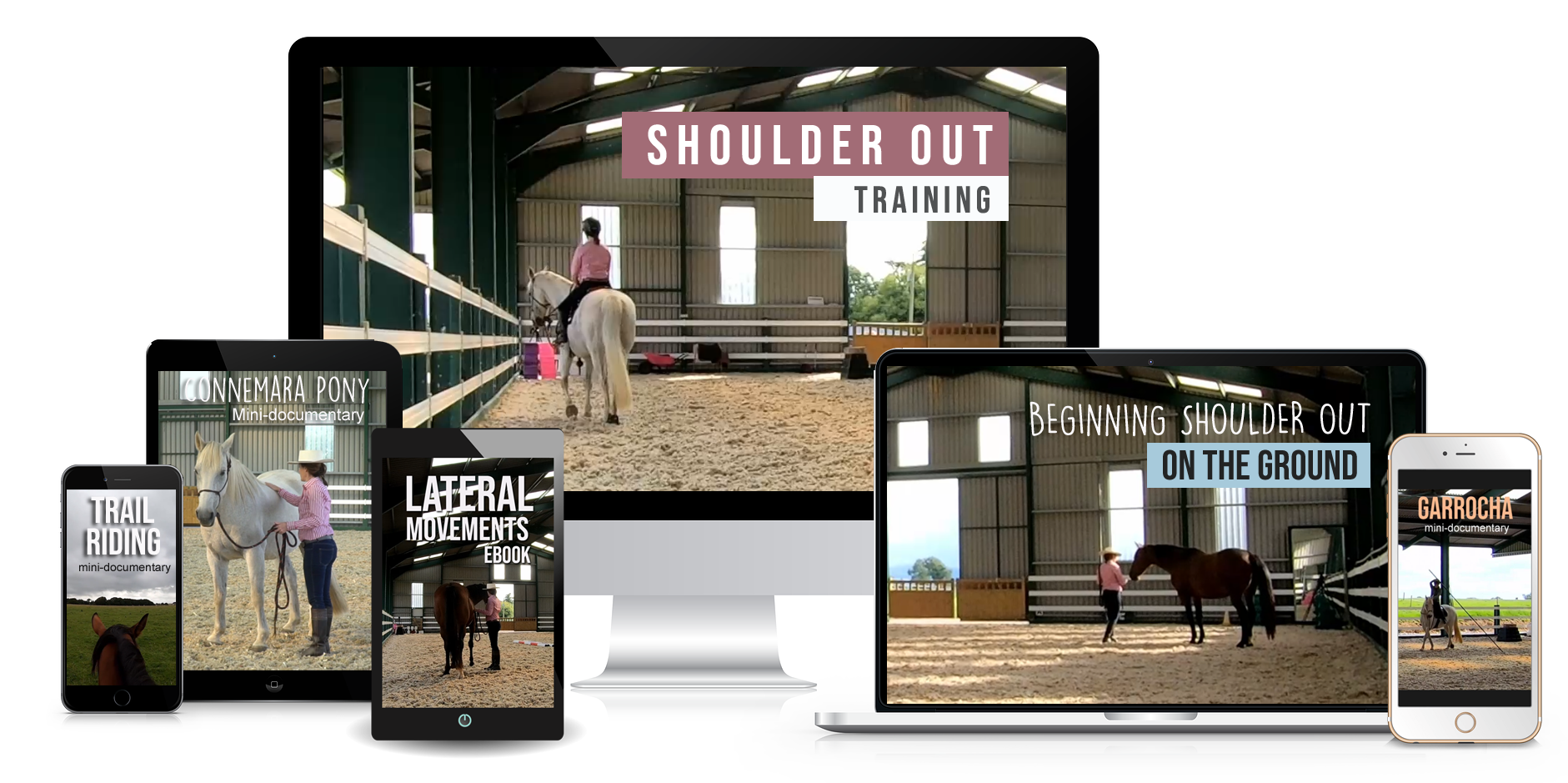 When you join today you will get the following online video lessons & bonuses: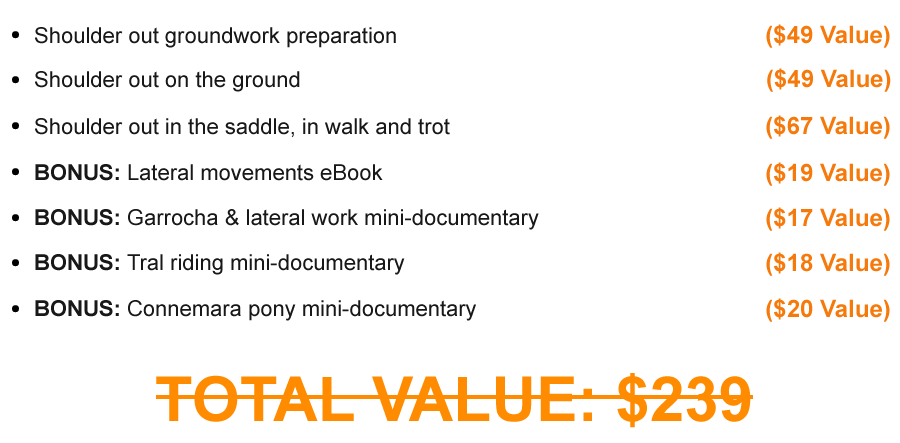 Purchase today, and get access to all the video training lessons PLUS bonuses for just $47 USD.
---
FAQS:

Is this course suitable if I only do groundwork with my horse? Yes. You can follow all the groundwork lessons in this training and enjoy a horse who does beautiful shoulder out on the ground!
How long can I watch these videos for? You can watch then anytime, you get unlimited access 24/7, works on any device with internet access.
Where can I watch this course? You can watch it on any device with the internet. Including computers, laptops, iPads, iPhones, Android phones and tablets, etc.
What is VAT? Europeans will also be changed VAT based on the country you live in. This is a European rule we must adhere to.
I'm too busy right now! If you're not ready to start right now, that's no problem. By joining today, you can watch all the lessons in the future, with unlimited access 24/7. You can complete this course in your own time - when it suits you best.
If I purchase now, can I watch the training videos later when I have more time? Yes. This is a self-paced course. You can do this at your convenience. There is no deadline and there is no time limit.
What currency is the price? The price is USD - American dollars.
What level do I have to be at to do this challenge? This challenge is suitable for most levels of both horse and rider. If however, your horse is difficult to lead, or very spooky or pushy, we recommend you first complete the 100 Miles a Month Challenge.
Do I need my own horse to do this challenge? You do need access to a horse to complete this training course
Your Instructor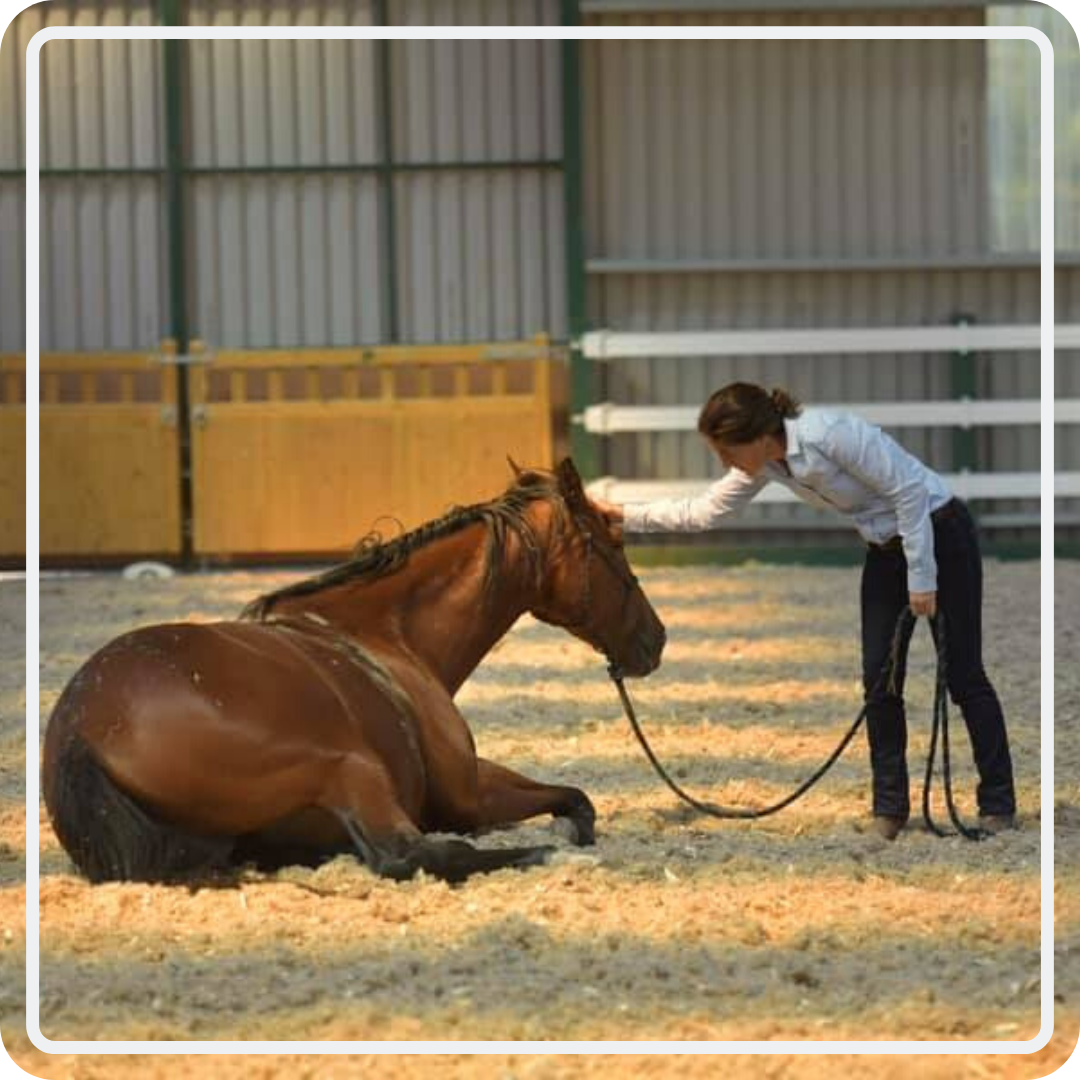 Elaine Heney is an award-winning producer and director from Ireland. She was Executive Producer on 'Out of the Wild' written by Mark Rashid, director of 'Listening to the Horse' and the award-winning documentary 'Soft Feel and Light Horses' by Steve Halfpenny. She founded Grey Pony Films, and lives in Ireland with her three horses.
Course Curriculum
Introduction to lateral work and shoulder out
Available in days
days after you enroll
Shoulder out groundwork
Available in days
days after you enroll
Shoulder out riding
Available in days
days after you enroll
Frequently Asked Questions
When can I watch this course?
After enrolling, you have unlimited access to this course, watch and enjoy as many times as you like - across any and all devices you own.
What if I am unhappy with the course?
We would never want you to be unhappy! If you are unsatisfied with your purchase, contact us in the first 14 days and we will give you a full refund.