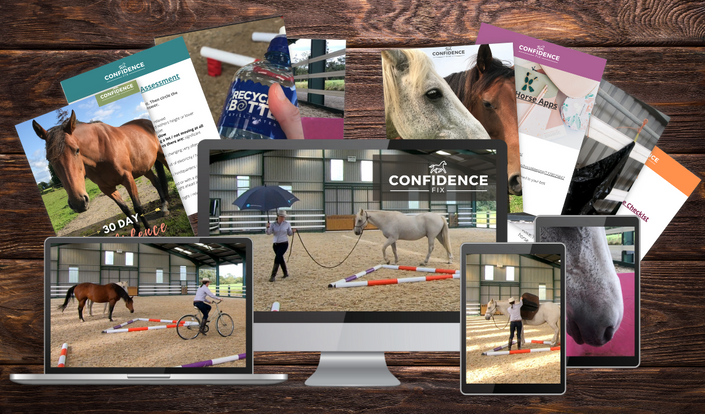 Confidence Fix: Self Study Edition by Grey Pony Films (with 36 months access)
Get The Tools, Skills & Strategies You Need To Create A Relaxed & Confident Riding Horse!
Enroll in Course
Do you dream you could just just drop down to the yard,tack up and ride - without even thinking about it?
Riding an anxious horse is not a fun experience - for you or your horse! Horses can lose confidence away from their friends & spook at invisible things. It's never fun when then freak out & melt down in scary situations! And this isn't safe for you or your horse!
As riders, we need our horses to be calm & relaxed. But how do we help an anxious & spooky horse to relax and gain confidence - WITHOUT us losing confidence in the process too?!
What if there was a simple way to build your horse's confidence?!
A way to build confidence in the nervous, novice or new horse, who startles & spooks easily at scary monsters & is more reactive than you're used to?
With simple exercises to help the horse who is nervous & frightened of everything? (including birds & bicycles!)
A way to go outside of your barn and ride elsewhere without a nervous breakdown!
Plus a simple technique to help you get over your fear, instead of you planning to ride a million times and then backing out?
Help your horse say goodbye to fear & anxiety with the Confidence Fix™!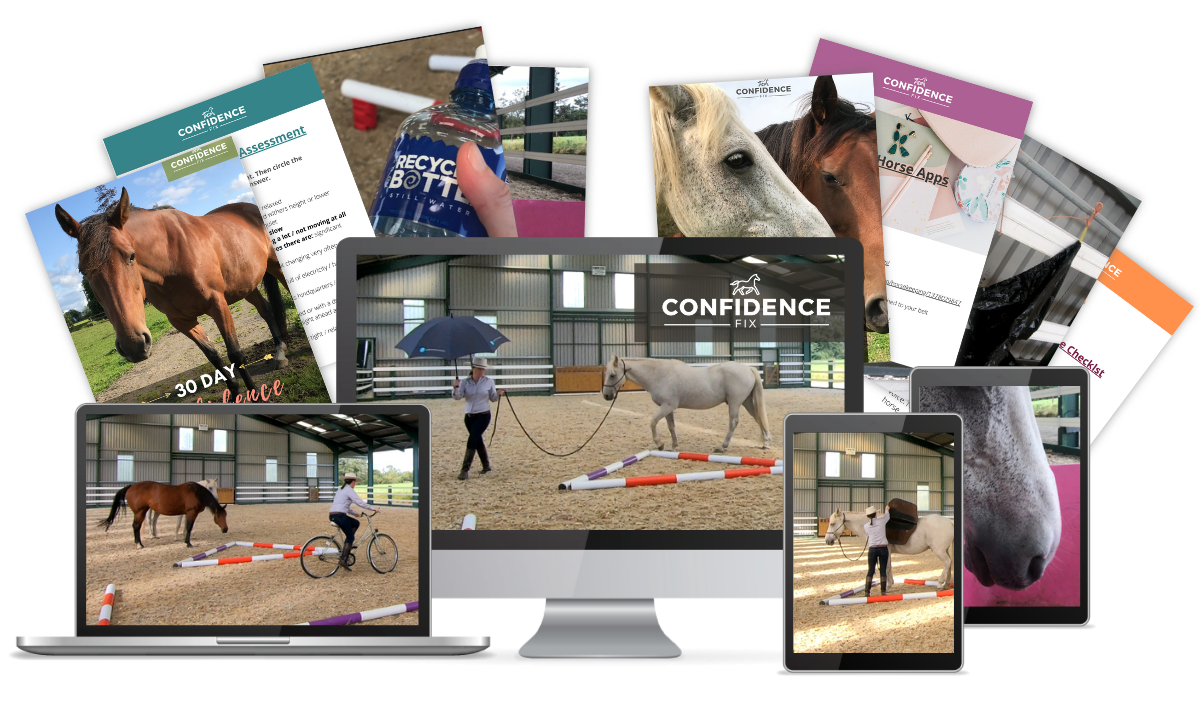 Get ready to enjoy stress-free trail rides & a relaxed & confident horse, with Confidence Learning™ & the 'Listening to the Horse™' inspired program for horse owners who are ready to say goodbye to the worry, anxiety & spooks!
Perfect for horses all breeds & disciplines!
New horses ~ Novice horses ~ Spooky horses ~ Nervous horses ~ Trail riding horses ~ Competition horses
Includes 8 Modules & Bonuses:
MODULE #1 / The Scary Stuff Survival System
MODULE #2 / The Zones of Safety Method

MODULE #3 / The Body Language Bootcamp

MODULE #4 / The Trust Toolbox Strategy

MODULE #5 / Confidence + Energy Training

MODULE #6 / Horse Hikes For Relaxation

MODULE #7 / Separation Anxiety Solution

MODULE #8 / 'Ready To Ride' Confidence Method

BONUS #1 / Trail Riding Confidence

BONUS #2 / The Food Formula Remedy

BONUS #3 / The Connection Technique
The Confidence Fix™ (8 Modules). . . . . . . . . . . . . . . . . . . (Value $997)
BONUS #1: Trail Riding Confidence . . . . . . . . . . . . . . . (Value $197)
BONUS #2: Food Formula Remedy . . . . . . . . . . . . . . . . (Value $147)

BONUS #3: Connection Technique . . . . . . . . . . . . . . . . (Value $175)

Regular price = $550
Today's Price = $297
Includes the 'No Horsing Around' 14 Day Guarantee!
If you enroll in The Confidence Fix™, and don't get all the tools & skills you need to create a relaxed & calm horse (even if you've lost a little confidence too!) and see your horse grow in confidence & relaxation in the first 14 days, just send us an email at [email protected] and we'll be happy to give you your money back.
FAQs
Is the Confidence Fix™ for both English and Western riders?

Who doesn't love to ride in California in jeans & a fabulous western saddle, ride with kangaroos in Australia in a rugged Aussie stock saddle, do a shoulder out with poise & grace in a dressage saddle, or cross dress like I do, with an Irish horse, a deliciously adjustable baroque saddle from Germany and a California hackamore! The Confidence fix™ works for all types of riders & horses, no matter what clothes you love to wear!
When I start the Confidence Fix™ program, how many days will it take for me to see my horse start to grow in confidence?

The great news is not very long! Using our Body Language bootcamp training, you will start to see your horse become more confident & relaxed, in as little as 2-3 short sessions!
How long does each session with my horse need to be?

We believe in quality, not quantity. And luckily, so do our horses! So if you can spend 2 to 3 x fifteen minute groundwork sessions with your horse each week - that sounds perfect. Plus with our thoughtfully designed 'small chunk' exercises & strategies, you'll be able to have fun and completely avoid overwhelming your horse!
I've tried other desensitising programs in the past and they haven't worked. How will the Confidence Fix be different?

The Confidence Fix is not a 'desensitisation' program. We don't want your horse to become desensitised to the world! Instead this program helps you to help your horse become braver & more relaxed, while keeping their wonderful sensitivity & focus - which is what you will need for an advanced riding horse - safely in place! How cool would it be to have the bravest horse in your barn or local area that also out-performs every other riding horse nearby also?!
Is the Confidence fix™ suitable for new horses or first time horse owners?

110% yes! The first step for any horse-human partnership, is to work together and build confidence. It is magical to see how with confidence, how much trust & connection develops and how you can build an awe-inspiring partnership with your horse! So it's perfect if you are the proud owner of a new horse, or if your horse is the proud owner of a first time human!
What is the format of the Confidence Fix™?

When you join, you will get a grateful kiss from your horse (who doesn't love a horse smooch?!) plus instant access to all the modules & bonuses in the Confidence Fix.
Does the Confidence fix™ include both groundwork & riding lessons?

All of the modules & bonuses in this program can be done on the ground. Groundwork is the best way we've found to help both you & your horse build confidence. But because we also know that no hour of life is wasted that is spent in the saddle :) you can also repeat a lot of these exercises in the saddle also if you want to :)
How old does my horse need to be for the Confidence Fix™?

At Listening to the Horse™, we understand that the earliest a horse's body will be physically mature is at 5.5 years of age. As this course can all be done on the ground, all horses have to be 4 years of age or over. We are very mindful not to do too much work with young horses who are not yet fully developed.
I'm too busy right now! If I purchase now, can I do this course when I have more time?

Absolutely! I know it's a crazy time in the world right now, so that's why you get unlimited 24/7 access to all the course modules and bonuses, on all your smartphones, laptops & ipads, for 3 years from the date of purchase.
What currency are the prices in?

All our prices are in USD dollars. I know that takes a bit of head scratching if you live in Europe or Australia, but I've found this handy website that makes it easy to convert the numbers into your local currency :)
What is VAT?

If you live in Europe, then the grey suits in Brussels have said that all online businesses have to charge Europeans VAT. I'm sorry about that. Trust me, horses are a lot simpler to figure out, than keeping up with all this VAT stuff!
Do you have a refund policy?

Yes, you bet we do! When you buy the Confidence fix™, you also get our 'no horsing around' guarantee! If you don't get all the tools & skills you need to create a relaxed & calm horse (even if you've lost a little confidence too!) and see your horse grow in confidence & relaxation in the first 14 days, just send us an email at [email protected] and we'll happily give you your money back!
What if I'm still not sure?

Don't worry :) The good news is that I'm usually online every day, so just drop me an email with any questions you have to [email protected], tell me about your horses & your situation, and I will give you my honest advice on whether the Confidence Fix is right for you or not.
Say Goodbye to Your Horse's Fear & Anxiety!