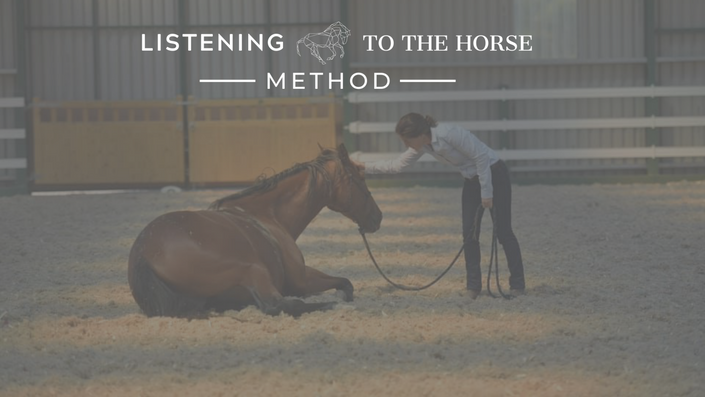 The Listening to the Horse Method
Get The Tools, Skills And Strategies You Need To Create A Inspiring Partnership With Your Horse.
Enroll in Course
We all dream of the perfect day with our horse... It's a beautiful warm morning. You walk out to the paddock, your horse looks at you and whinnys to greets you. You arrange their breakfast, and them sit in silence listening to them eating, and enjoy being in the moment.

A little later it's time to ride. Your horse walks up to be haltered, and stands perfect still while you saddle him. He sidepasses himself to the mounting block, and stands still after you mount. You ask him to turn away from home, and he confidently leaves his friends, happy to be going on a wonderful adventure with you.
As you ride through the trees, you enjoy these wonderful moments of connection between you & your horse. Slowly the deserted beach appears in front of you. You are in perfect connection with your horse.

But to achieve this type of connection, the approach we use to train our horses is critically important.
As horse owners, we understand the only way to develop that dream relationship, is to put the horse first in everything that we do together. We strive for a willing relationship, and not a partnership based on fear or force.
We understand that our greatest judge is our horse.
We say 'no' to gadgets and force.
We are open minded, curious & consistent.
We don't use shortcuts, quick fixes, draw reins, tie our horses heads down or their mouths shut.
We understand collection is not a head position.
We know that groundwork builds relaxation and partnership.
We recognise the try, no matter how slight.
We allow our horses time to evolve at their own pace.
We put our horse's health first.
We all want to do the best for our horses, but sometimes we can struggle with 'how to get there'...

INTRODUCING THE LISTENING TO THE HORSE METHOD
Get the exercises, skills, tools & strategies that puts the horse first, and helps you create trust, confidence & connection in everything you do with your horse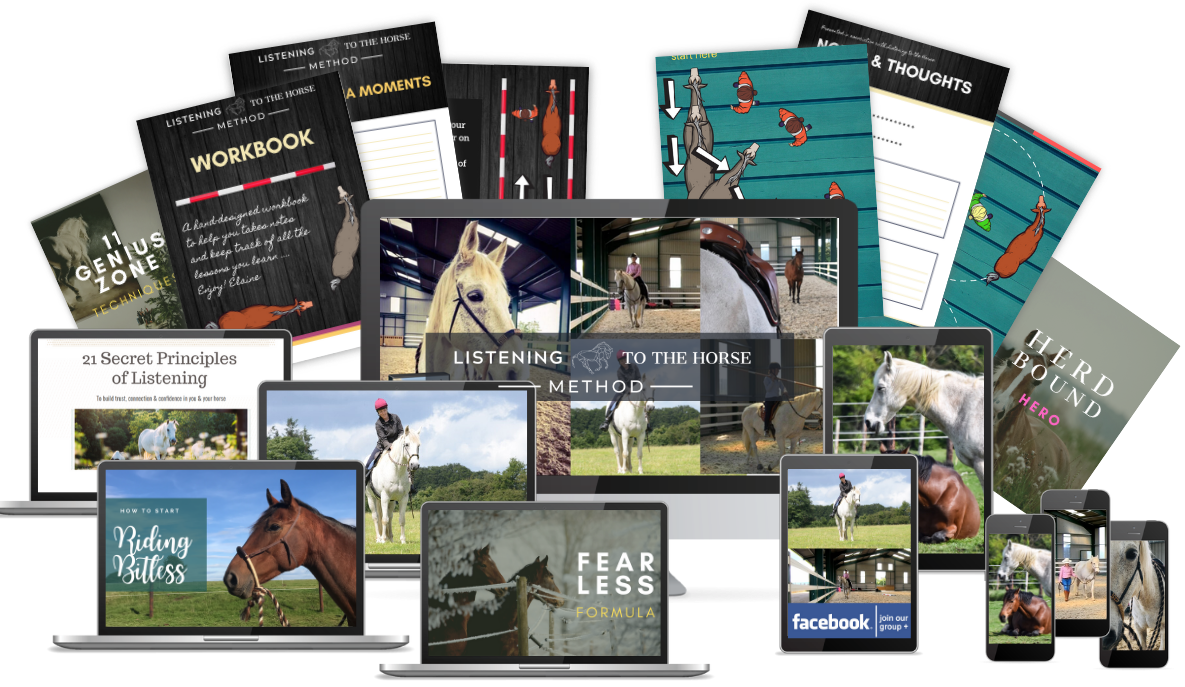 Interactive program overview:
Module 1: Goal Setting, Dreams & New Friends
Module 2: Core Elements For Connection
Module 3: Genius Zone Techniques
Module 4: Groundwork for Confidence
Module 5: Lateral Work Secrets
Module 6: Collection Made Simple
Module 7: Bitless Bridles & Hackamores
Module 8: The Confidence Connection
Module 9: Herd Bound Hero

Module 10: Core Strength Training
Module 11: Fear less Formula
Bonus 1: 2 x Core Elements Video Reviews
Bonus 2: 8 week private Facebook community & coaching
Bonus 3: Guest lessons with Jim Masterson & Steve Halfpenny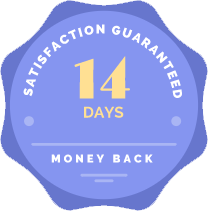 If you're not 100% satisfied with the program in the first 14 days, I will offer you a full refund, scouts honor. Make your payment today, and you don't even have to decide if you're in for good! Take the full 14 days to explore the materials and experience the vibe of and THEN... make a decision using the information YOU HAVE, rather than the information you don't.
FAQs:

What's the format of the program? When you join, you get instant access to all of the training modules, plus your bonuses. So you can start learning today. You also get 8 weeks access to online coaching in our private students facebook group. This group access & daily coaching support begins the day you join this program. Our aim is to help you take action & practise the lessons in the course during this time, with all the help & support you will need.
What else do I need to buy? For the groundwork exercises you will need a halter. For riding, your normal saddle & bridle is fine.
What technology do you need? You will need a computer or smartphone/tablet connected to the internet, so you can watch the video modules. You will also need a facebook group to join the online community.
What currency are the prices in? The prices are in USD (American dollars)
How can I check the currency exchange rate? Visit www.xe.com
Can I participate in the program even if I'm not riding my horse right now? Yes, the first 4 modules are for preparation work, which does not require you to ride your horse. You can also start modules 5 & 6 on the ground, with both younger and older retired horses.
Is this for English or Western riders? The course is for both English & Western riders. It doesn't matter the style of your saddle or what type hat you wear :) We welcome cobs, ponies, warmbloods, competition horses, arabs, quarter horses, Spanish horses, coldbloods, drafts, Connemaras and all breeds of horses.
Do I have to share videos of training my horse? No you don't.
My horse isn't started under saddle yet, will this program be suitable for us? Yes, only if your horse is 4 years of age or older, as you can do all the groundwork exercises. We do not accept horse under 4 years of age. The first 4 modules are for preparation work, which does not require you to ride your horse. You can also start modules 5 & 6 on the ground, with both younger and older retired horses. Plus there is lots you can on one the ground also inside the 3 bonus modules. You can do the riding portion when you and your horse are ready. There is no rush. In fact, the most important part of building connection & trust is the groundwork preparation, so you are in the right place.
What if I don't have time to work with my horse every day? That's fine. This program is designed so you can do it in your own time.
Who is this NOT for? If you are not willing to focus on groundwork & be patient to allow your horse to learn in their own time. If you want to use quick fixes & gadgets to solve problems. If you have very little patience. If creating trust, connection & communication is not a high priority for you. if you have a horse under 4 years of age.
My horse & 1 are experienced, confident, and we can already do a lot of lateral work & collection. Is this suitable for me?
This program is designed to help horses & riders who wish to improve their trust, confidence & connection. If you are looking for advanced lessons, like flying lead changes, garrocha work, or the perfect half pass, this course does not cover these more advanced elements. We can recommend other programs that may be more suitable for your skill level. Email: [email protected] for a chat anytime.
How many times can I get access to the online program? You get unlimited access, 24/7 on all internet devices, so you can watch anytime you wish.
What if I'm not ready to start now? That is no problem. I will open up this program again in the future, but I don't have an official date when this will be.
Do you have a refund policy? Yes we have a 14 day 100% money back refund policy.
What is the refund policy for the 2 pay option? You also have a 14 day 100% money back refund policy. If you decided to cancel after this, there is no refund, as the 14 day refund period has expired. If you miss or cancel payments in the 2 pay, your access to this program & the community group, calls and all parts of this program, will end.
I have another question I need help with If you've still got Qs, here is what I recommend. You can email me [email protected] and ask me any questions you have. I'm happy to help.
Why is the price higher? If you live in Europe, VAT is automatically added to the price. This is a European law.
Your Instructor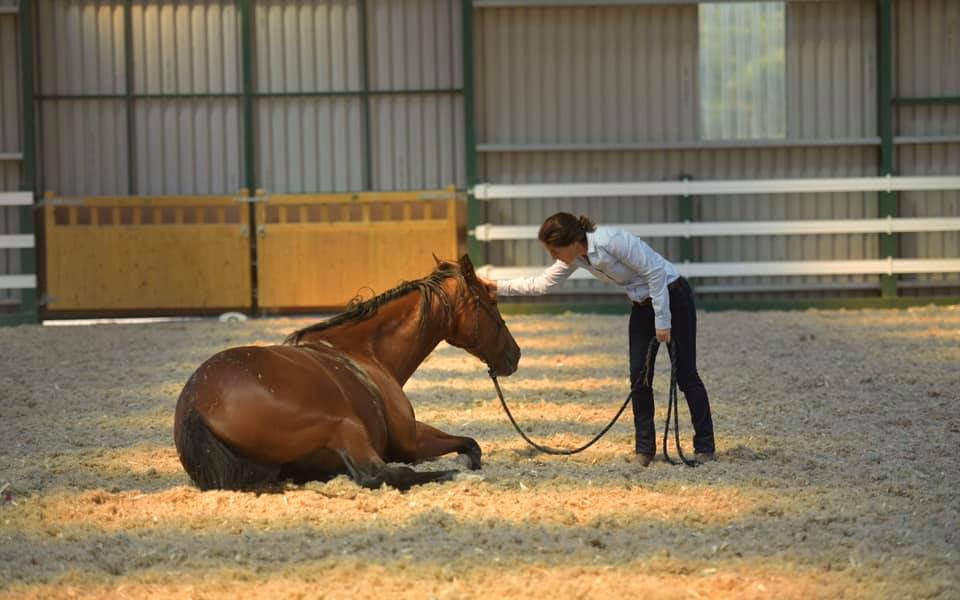 Elaine Heney is an award-winning producer and director from Ireland. She was Executive Producer on 'Out of the Wild' written by Mark Rashid, director of 'Listening to the Horse' and the award-winning documentary 'Soft Feel and Light Horses' by Steve Halfpenny. She founded Grey Pony Films, and lives in Ireland with her three horses.
Frequently Asked Questions
When can I access this program?
After enrolling, you have unlimited, instant access to this program across any and all devices you own, 24/7, watch as many times as you like.
What if I am unhappy with the course?
If you're not 100% satisfied with the program in the first 14 days, I will offer you a full refund.